Vol.10
"Inoru Te" (Praying Hands), a Motif Born from the Mind of Suzume Uchida
Artist: Suzume Uchida
WILDSIDE Collaboration Curator: Motofumi "POGGY" Kogi
WILDSIDE YOHJI YAMAMOTO has collaborated with Suzume Uchida, a painter who has worked closely with Yohji Yamamoto in the past. Below is a conversation/interview with Suzume and WILDSIDE curator POGGY, who initiated the collaboration.
― What was your first impression of each other?
POGGY: I first met Suzume when I was working on my project SNACK YARO POGGY. I was familiar with her work before then, and suspected that she might be a bit difficult to talk to. But to my surprise, she was extremely kind.
SUZUME: About 3 or 4 years ago, a friend said to me "there is a guy called Poggy who I would love to work with some day," and that's how I first heard his name. I really respect that friend when it comes to fashion, so when I heard them speaking so highly of Poggy, I knew that he was the real deal. As Poggy said, the first time I met him was at SNACK YARO POGGY. He cracked open a bottle of Yomeishu and shared it with me, which I found amusing.
― Poggy, what was your first impression of Suzume's work?
POGGY: "Sorrowful" and "delicate" are two words that come to mind. A couple of years ago, I went to a pop-up store in Isetan Shinjuku to see a collection born out of a collaboration between Yohji Yamamoto and Suzume Uchida. I got to see her work close up and was struck by how delicately they were painted.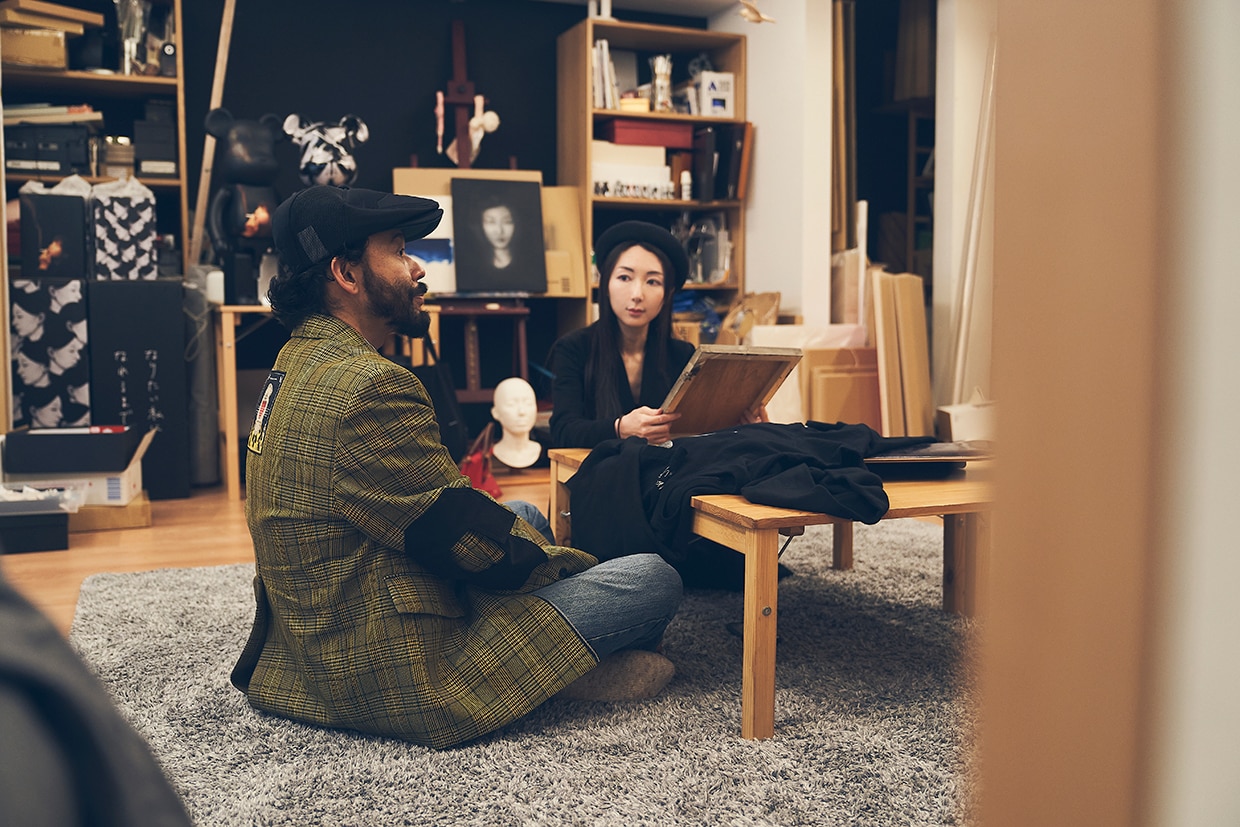 ― Suzume, what made you decide to become an artist?
Suzume: I was 27 when I decided to become an artist. Until then I had been working at a normal company, but I had to quit due to health issues. I had always loved painting since I was a child, so I decided: why not give it one more shot?
When I put it that way it sounds quite romantic. But in reality, my health was going down the drain, I was struggling with working 5 days per week, I didn't know how I was going to continue making a living in Tokyo, and so the only option left for me was to try painting.
I was at the crossroads between giving up on life or trying to make a career out of painting. In the end, I decided to give the latter a go. It wasn't until I started actually exhibiting and selling my paintings that I realized I had made the right choice. I made connections with people who recognised me for my work, and I started to feel a responsibility to continue painting for them. That's when I decided that I was ready. 
When I asked myself what my purpose was in this world, I realized that it was to express myself.
And thus, I decided to continue painting for the rest of my life.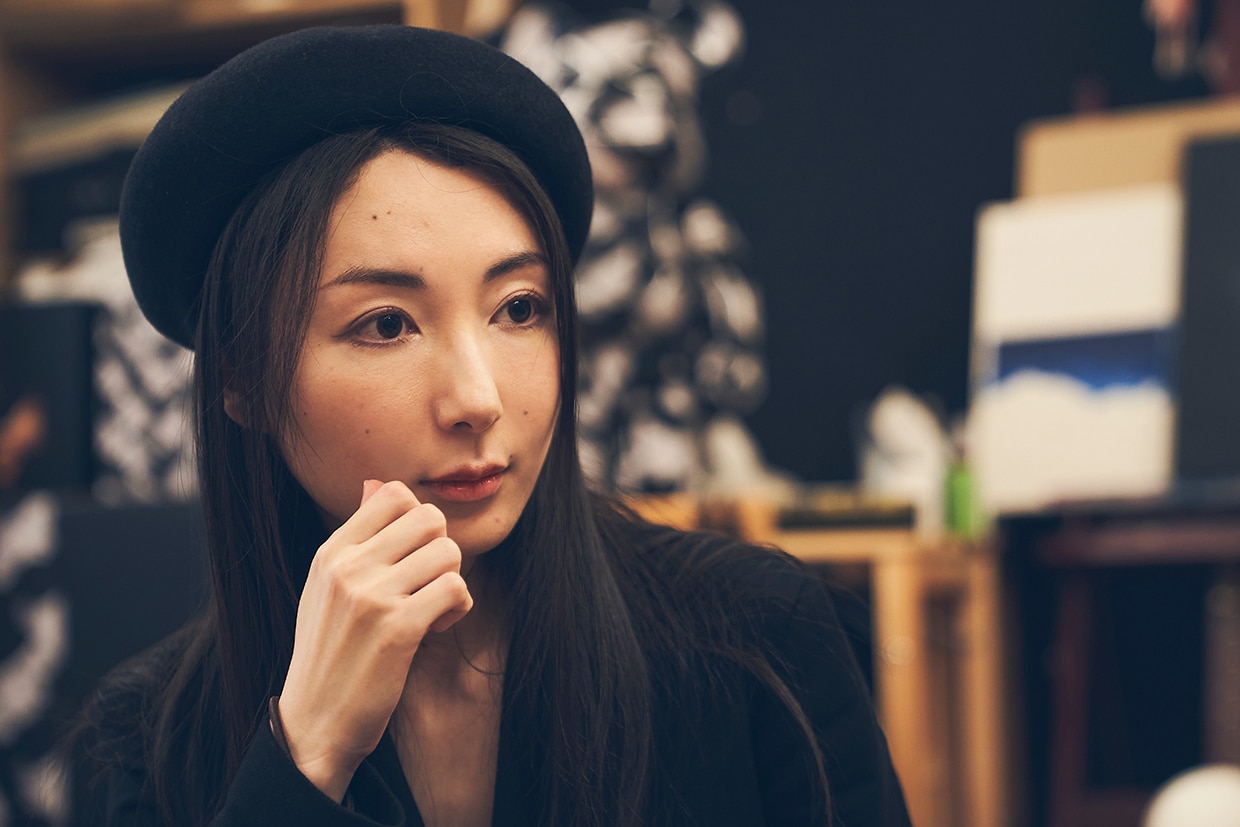 ― You share a deep relationship with Yohji Yamamoto. How did this come about?
Suzume: In the summer of 2013, I received an email asking if I would be interested in working with Yohji Yamamoto POUR HOMME. At the time, the Yohji Yamamoto atelier team wanted to print clothes with pictures of women's faces, and they were looking for an illustrator or artist who could create realistic portraits. Yohji Yamamoto himself chose me for the job. I was extremely lucky. The pieces in that season's collection were all printed with my work, right until the very last look. I was astounded.
― For this collaboration with WILDSIDE, Suzume created the "Inoru Te" (Praying Hands) motif.
POGGY: I think this motif has an important meaning in the context of street fashion. Suzume said that she had wanted to create a praying hands motif for a long time, and she was finally able to do so for this collaboration.
SUZUME: When I created this motif, I was thinking about war happening in the world, and I had just given birth to my child. It was a time when I had strong feelings about the idea of prayer. Thus, the praying hands motif was what I wanted to create most at that moment.
When I was given the go ahead to create the motif for this collaboration with WILDSIDE, I felt that POGGY was extremely supportive of my choice, which made me really happy.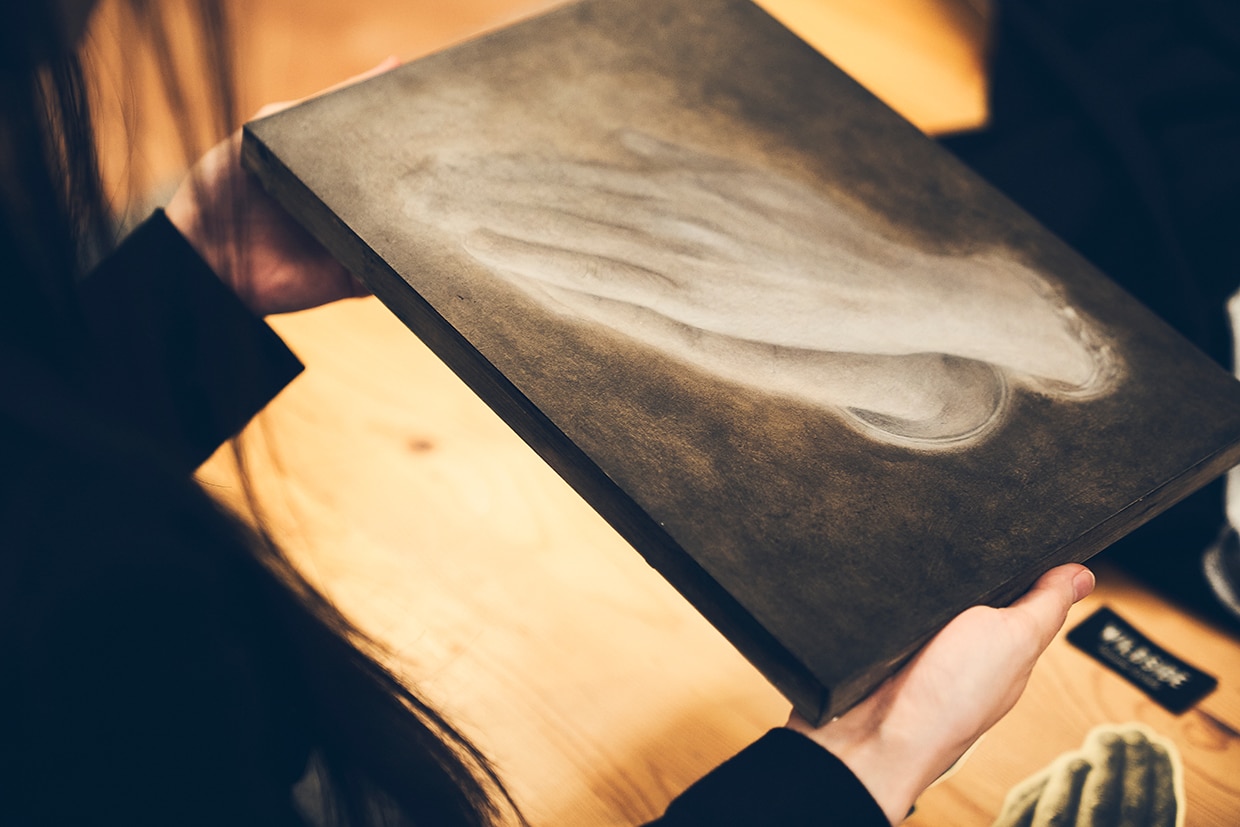 ― What was the roadmap to deciding on the lineup for this collaboration?
POGGY: To distinguish this collaboration from the work that Suzume has done with Yohji Yamamoto POUR HOMME in the past, this line-up includes skateboards, stickers, T-shirts and hoodies – items that fit with WILDSIDE's DNA. In the same way that musicians create a good song and want as many people as possible to listen to it, we wanted to reach a different audience with this collaboration – an audience that perhaps hadn't encountered Suzume's work in the past. I think that Suzume felt the same way.
Suzume: Yes, this was the intention that I had. I wanted new people to encounter my work through this collaboration.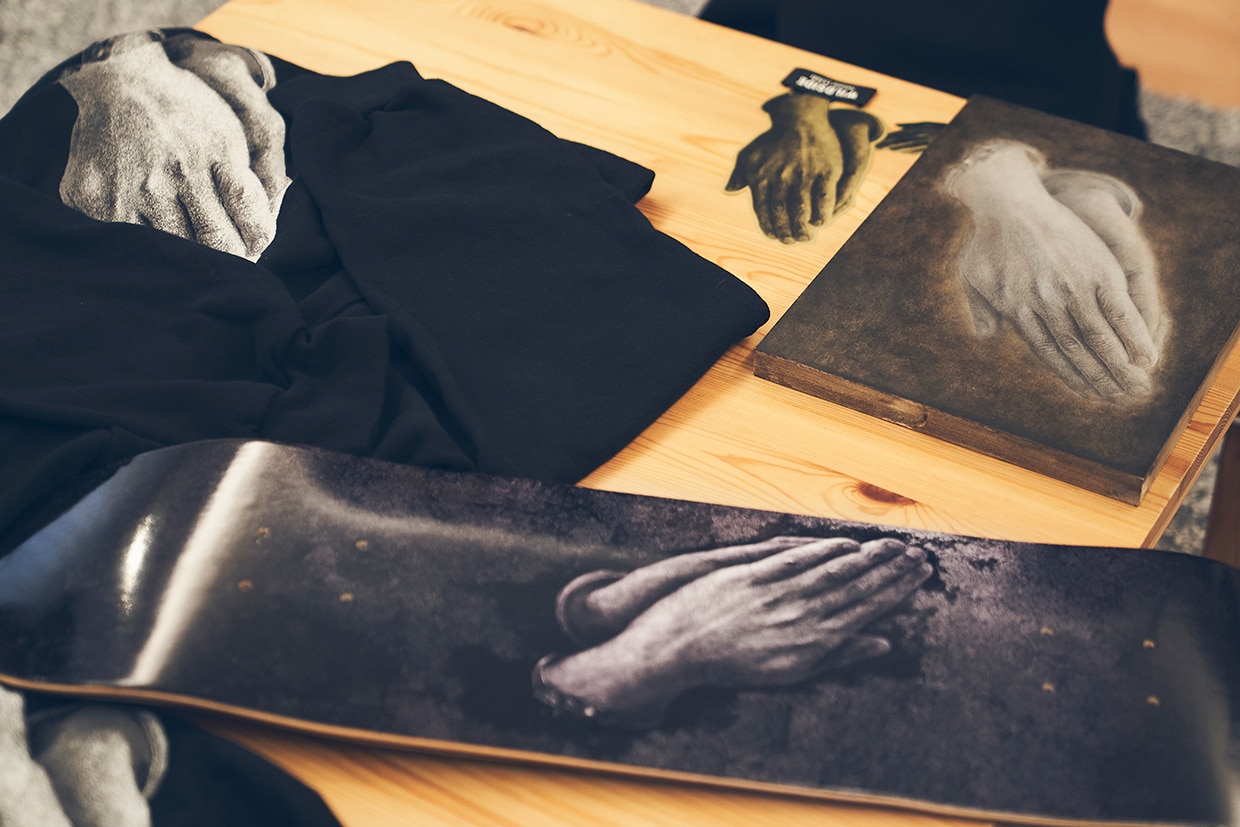 ― This lineup includes a lot of items that aren't usually made by Yohji Yamamoto.
POGGY: It's interesting how by incorporating Suzume's paintings into skateboards and stickers, it creates a completely different image to what we've seen before.

Furthermore, the T-shirt bodies made by Yohji Yamamoto are single-stitched. This is a highly sought-after detail often seen in vintage T-shirts, but which is not so common today. As for the hoodies, they have a slightly rounded body that is designed to fit you better the more they are washed. It's amazing how much thought Yohji Yamamoto puts into such seemingly simple items.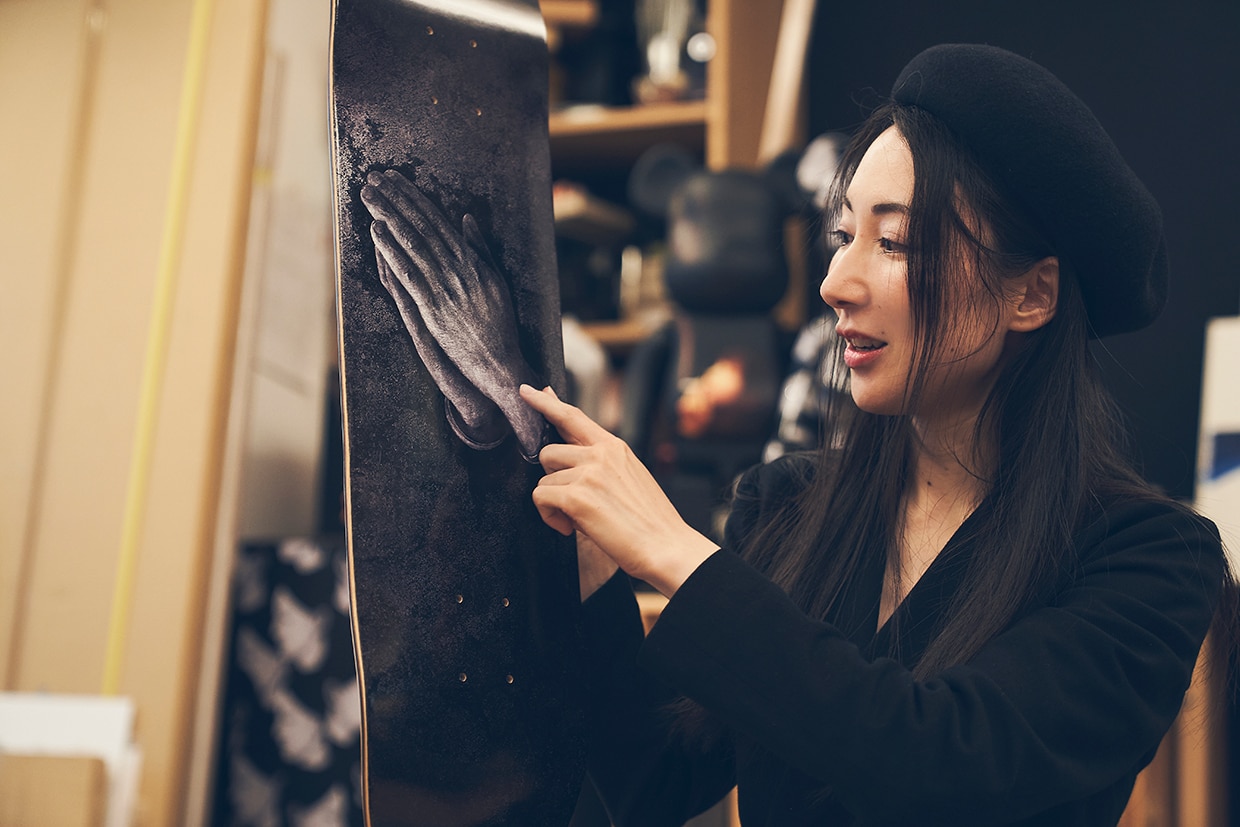 ― The fusion of WILDSIDE with Suzume's paintings has resulted in a collaboration of unprecedented quality.
POGGY: Fashion has two seasons per year, meaning that it changes every six months. You can enjoy trends as they come and go. With cars, trends change every 5-10 years these days. Art, I think, has the longest lifecycle, because it reflects life. The clothes that Yohji Yamamoto makes are not simply trends. Yes, the pieces are constantly evolving, but they are bound together by unchanging convictions. I think what Yohji Yamamoto does has become an artform by now. The brand's unwavering belief in making clothes matches seamlessly with the work of Suzume.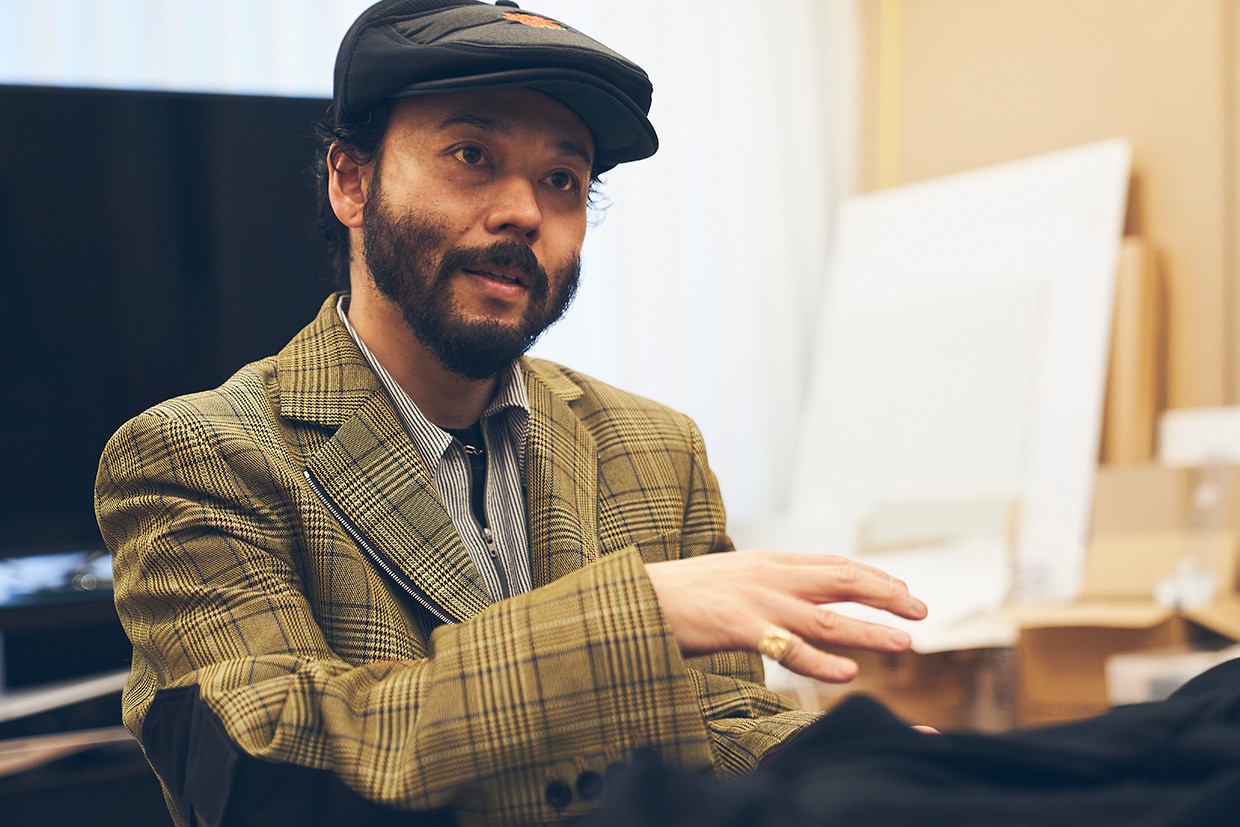 ― Suzume, do you have any goals or outlooks for the future?
Suzume: I think I have to keep on creating paintings. If I were to stop now, the stories would end abruptly, and it wouldn't be much fun for the people who look at my work. Continuing to paint as long as I live is probably the biggest challenge of my life – but it's also the least that I can do. So first and foremost, I vow to never stop painting.

Beyond that, I don't have any particularly strong outlooks for the future to be honest. However, I do hope that through my art, my feelings can be conveyed to people in the future – whether that be 100 or 200 years from now. I want my work to outlive me, embedded with my emotions, and hope that it will have the power to evoke feelings in people who look at it hundreds of years from now.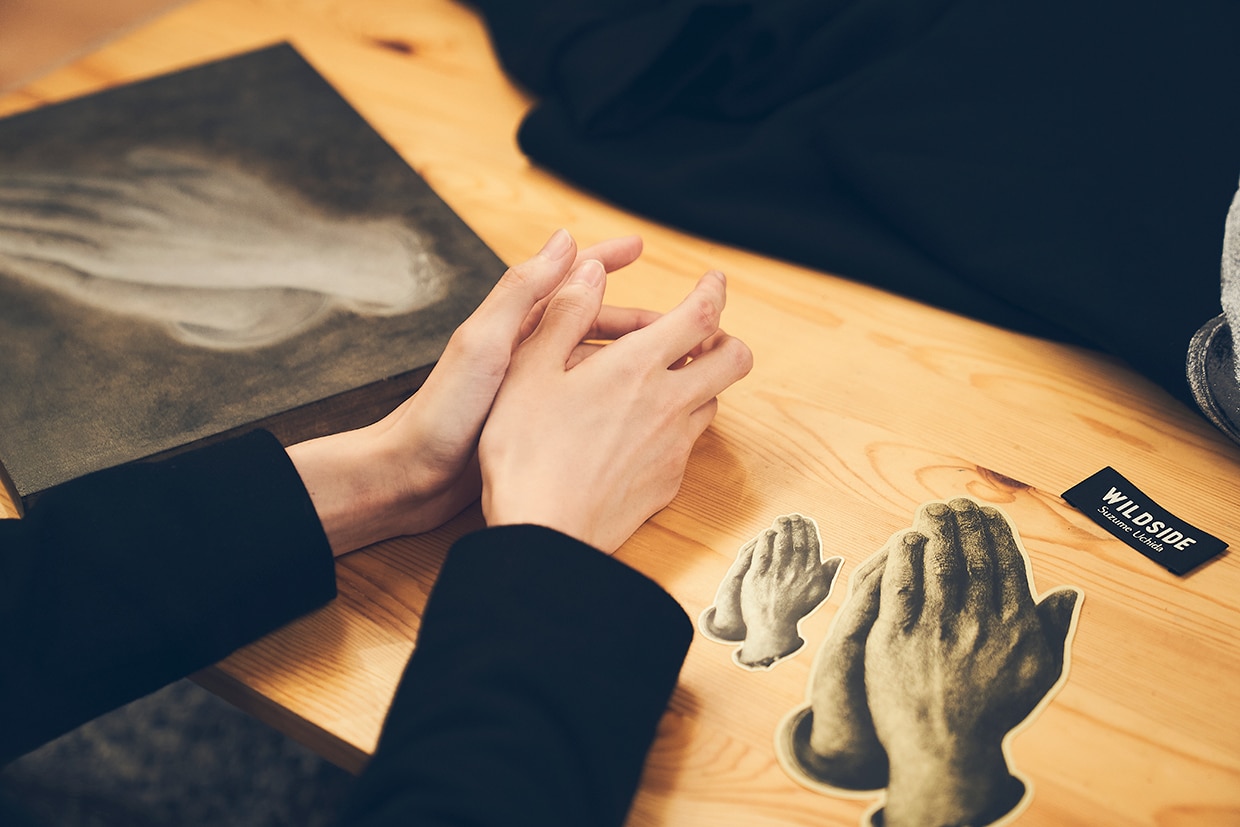 POGGY: Suzume, I'm really glad we were able to talk to you today. Thank you.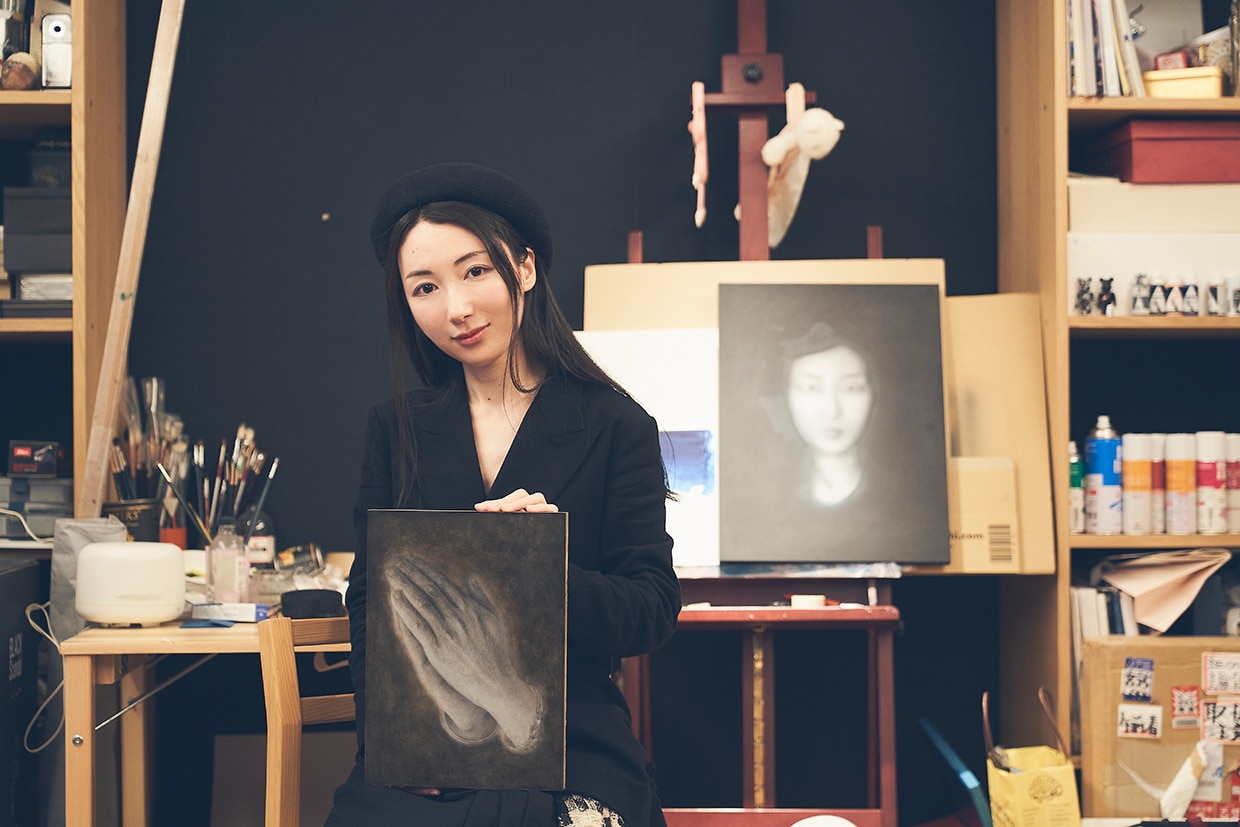 Profile: Suzume Uchida - Artist
A recurring theme in Uchida's work is a sense of vitality that comes from formative experiences rather than negative emotions.
She first collaborated with Yohji Yamamoto in 2017 on a collection that debuted at Paris Fashion Week and was sold worldwide. Since then, she has continued to work closely with the brand year after year.
In 2020, she collaborated on a collection with Adidas Y-3; and in 2022, she produced a collaboration with be@rbrick.
Uchida has participated in numerous exhibitions at galleries and art fairs both in Japan and abroad.
https://www.instagram.com/suzume_uchida/
Browse the Suzume Uchida/WILDSDIE collaboration here:
https://wildside-online.jp/shop/r/r6004/