Vol. 8
Pieces Produced Entirely by Hand Through "Hacking" Worn Out Materials / Creating Clothing with PROLETA RE ART.
An interview with PROLETA RE ART's head designer PROT, who is creating pieces in collaboration with WILDSIDE, and WILDSIDE's curator POGGY, who initiated the collaboration.
―First, tell us how your brand came into being.
PROT: At first, I was selling vintage pieces I had customized on online auction sites, because I didn't know how else to sell them. I would upload maybe 3-4 items every Sunday night, and spend a week in a state of nervous anticipation, not knowing if anyone would make a bid on them. Thankfully, there were bidders for all of my pieces. It was totally unpredictable; sometimes a hoodie would be sold for several thousand yen, and sometimes a denim jacket would go for several hundred thousand. It was exciting and satisfying when I received many bids. 

One day when I was casually scrolling through Instagram, I came across a piece I had sold that had been uploaded to an archival fashion account based outside of Japan. The caption read "70's vintage custom denim jacket." When I saw it, I commented "I made this piece." After that, I began to post some other pieces I made on my account, and people's interest in my work began to grow, eventually to the point where I was receiving inquiries from people who wanted to buy my work. I took this as an opportunity to officially launch my made-to-order brand on Instagram, and started using the name PROLETA RE ART. When I started, I was still selling everything by auction, but as demand for my pieces increased, I no longer had time to put everything up for auction. Eventually, I began to receive inquiries from select stores that wanted to sell my brand. Now, I offer my creations to select stores, and also make custom-made pieces upon request. 
Nevertheless, it was really fun to sell my work via auction, so I am thinking about using auctions once again, perhaps on an irregular basis.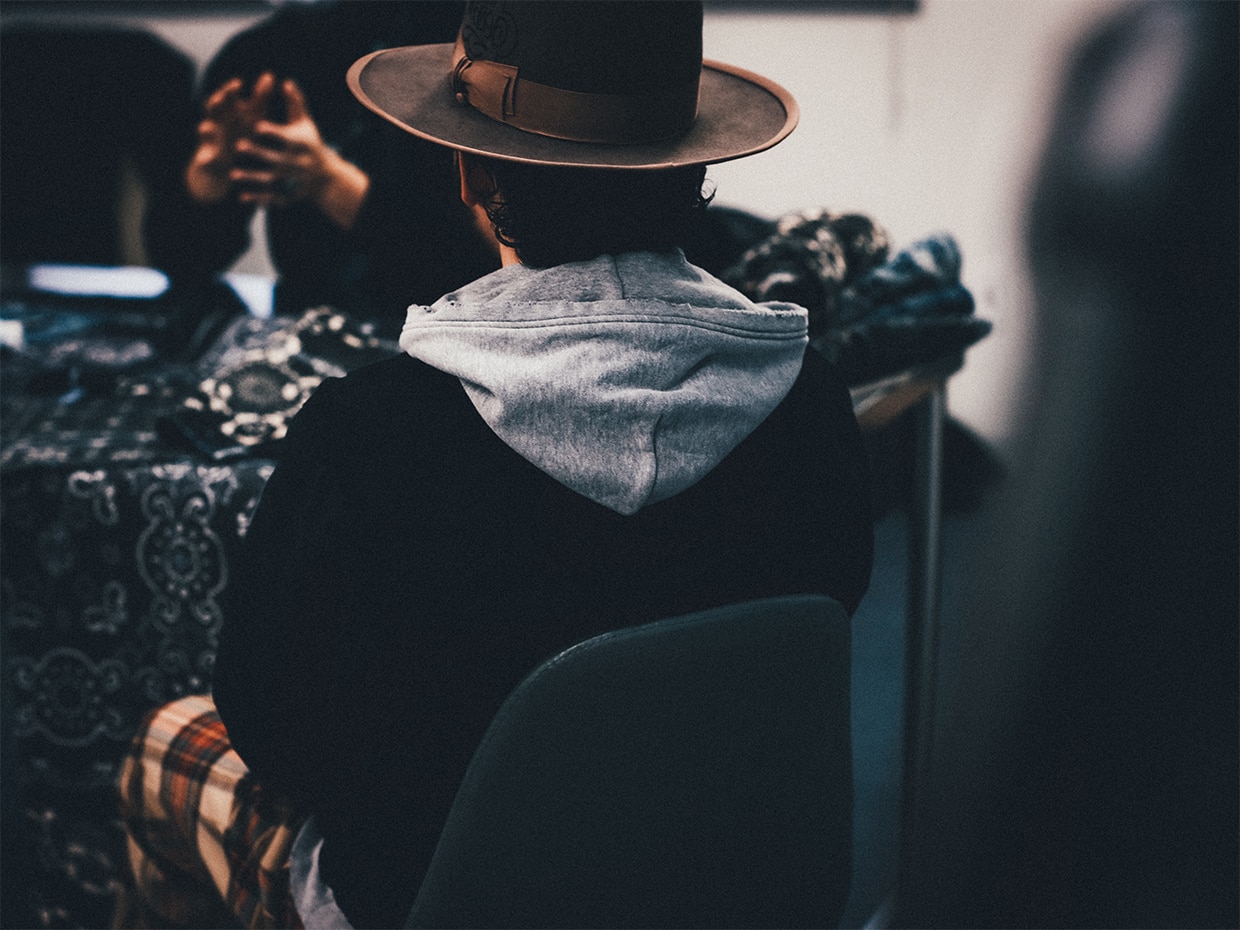 ―Can you explain the origin of your brand's name?
PROT: It comes from the English word "proletariat," which is used to describe wage-earners in capitalist societies collectively. I changed "-riat" to "-re art" to express my concept of reincarnating labor as art. 
By "hacking" old materials that have retired from their role as clothing, and repairing, customizing and distressing them to accentuate their textures, they can be reincarnated into art and have new life breathed into them. When a material breaks, I fix it. But I don't just restore it back to its original state; I repair it while adding something new to the design. I wanted to make clothes that not only change over time, but also have a story to tell. That's how I came up with the brand name. 

Also, I am a huge fan of a Japanese rapper called "PRIMAL" who has a 16-track album called "PROLETARIAT." When I had to quit my last job because of health issues, I started listening to this album obsessively. I really resonated with the artist's lyrics, voice, honesty and beats. There were even times when I would listen to the album for 24 hours non-stop. After this experience, the word "proletariat" really stuck in my head, so this also influenced my decision on the brand name. 
Looking back now, perhaps my mentality at the time was very much linked to the energy of that album.

―Tell us about how you two first met.
POGGY: We met about a year ago through an interview. I was interested in PROLETA RE ART, so I asked PROT if I could interview him and visit his atelier. 
When I went to visit him, I was shocked to see that all the work is done by hand by just two people. Once the denim is disassembled, the lining and bandanas are attached, hand stitched, embroidered, machine stitched and distressed. After that, everything is taken apart once again, stitched to prevent fraying, and then dyed. They also rust all of the buttons and hardware themselves. The quality was so high that it really took my breath away. 

PROT: When we first met at the atelier, there happened to be one pair of BORO jeans that had been made for a customer. Because we had distressed the jeans so intensively, they had shrunk to the point where we couldn't give them to the customer. Mr. POGGY asked me if he could try on the shrunken jeans, and when he did, they were the perfect size for him.
POGGY: I decided to buy them on the spot (laughs).
PROT: They were a pair of customized vintage jeans with a flared silhouette – a silhouette that POGGY fell in love with. I was wondering what to do with them because they were too small for me to wear (laughs).
―So PROT made a good first impression, and you guys have been in contact ever since?
POGGY: That's right. I think it's really great that PROT has made a name for himself both in Japan and abroad with his custom-made pieces and unusual production methods.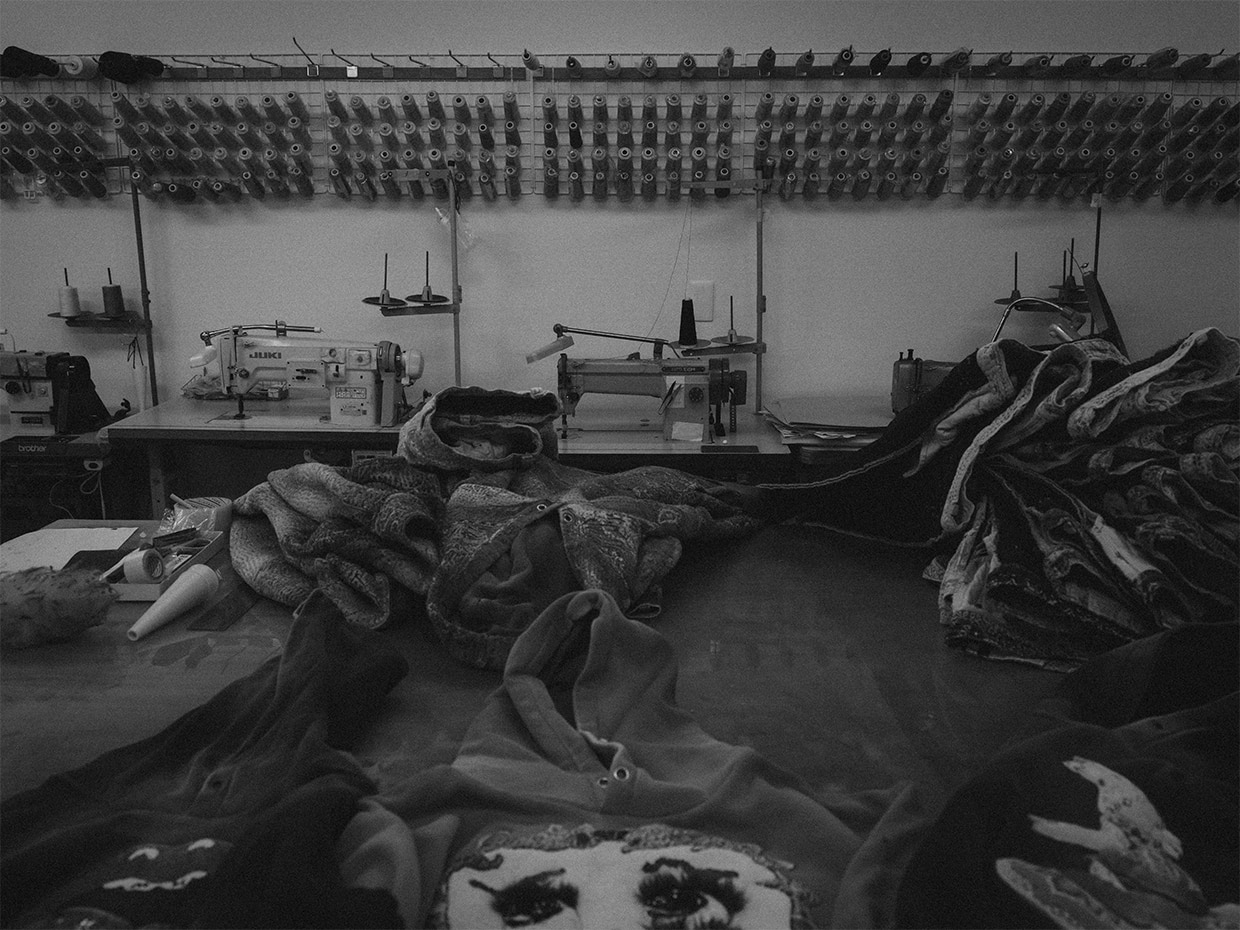 ―How did your collaboration with WILDSIDE come about?
PROT: It all started when POGGY contacted me and invited me to collaborate. I have always loved Yohji Yamamoto's pieces, and although I could never afford to buy them new, I have been collecting them secondhand or at auctions since I was a student. I never imagined that I would be asked to collaborate with Yohji Yamamoto, and I told POGGY that I would be delighted to oblige.
―What was the inspiration behind your first collaboration?
PROT: That collaboration was with our line "UROBOROS." The word "uroboros" means circularity, permanence, infinity etc., and pieces from our "UROBOROS" line feature distressed/tattered details ("boro" also means "shabby" in Japanese). The collaboration used vintage textiles combined with black bandanas to create an all-black matching set that matched with the Yohji Yamamoto aesthetic.
Applying a distressed finish to black vintage fabrics is not easy. When we tried to strip the dye from the black bandanas, they kept turning red instead of white. However, after trying various discoloration, washing and dyeing methods, we came up with a way to make the fabrics look natural after stripping the dye from them. As a result, I believe that the pieces from our first collab had the unadulterated, natural-looking finish that we sought to achieve.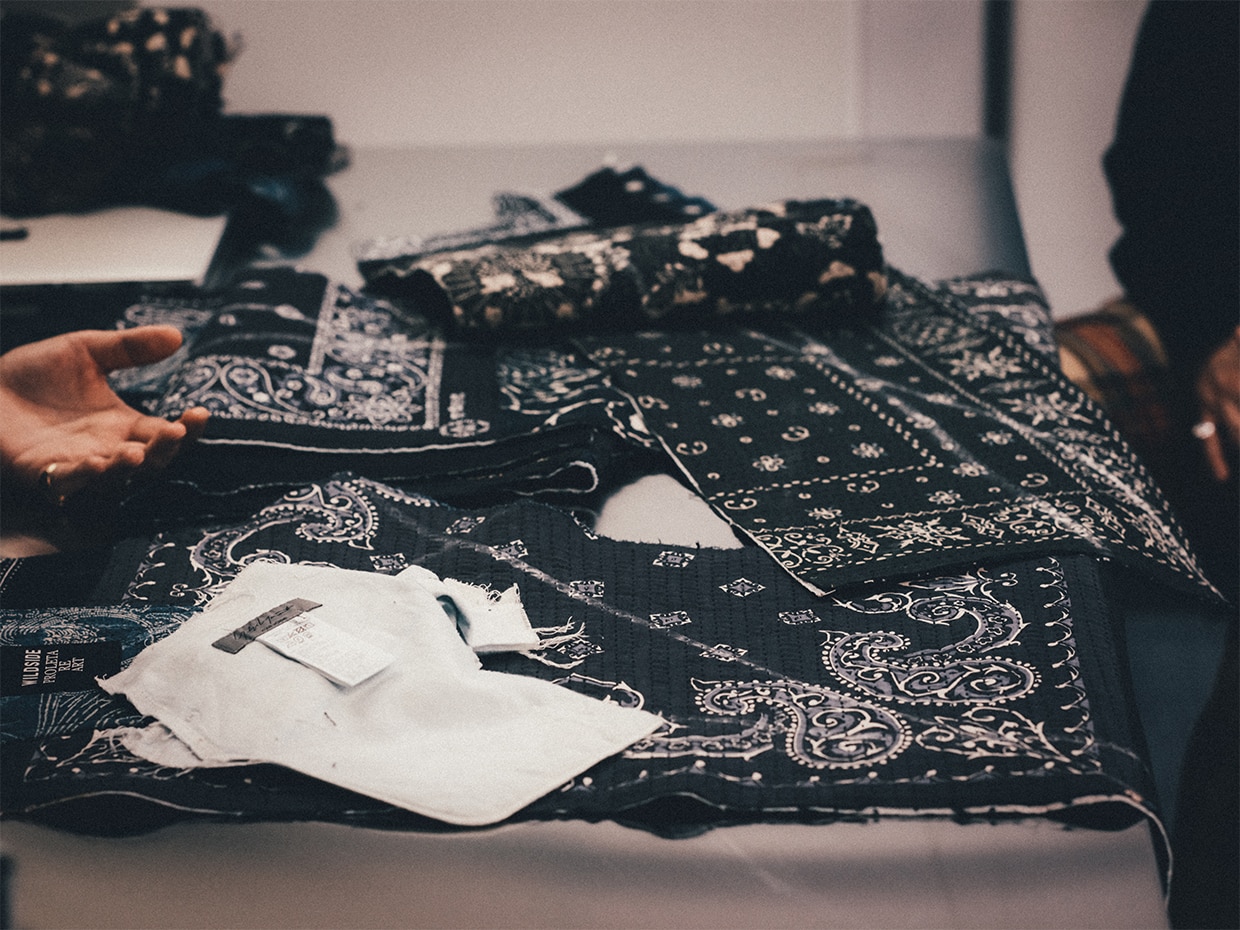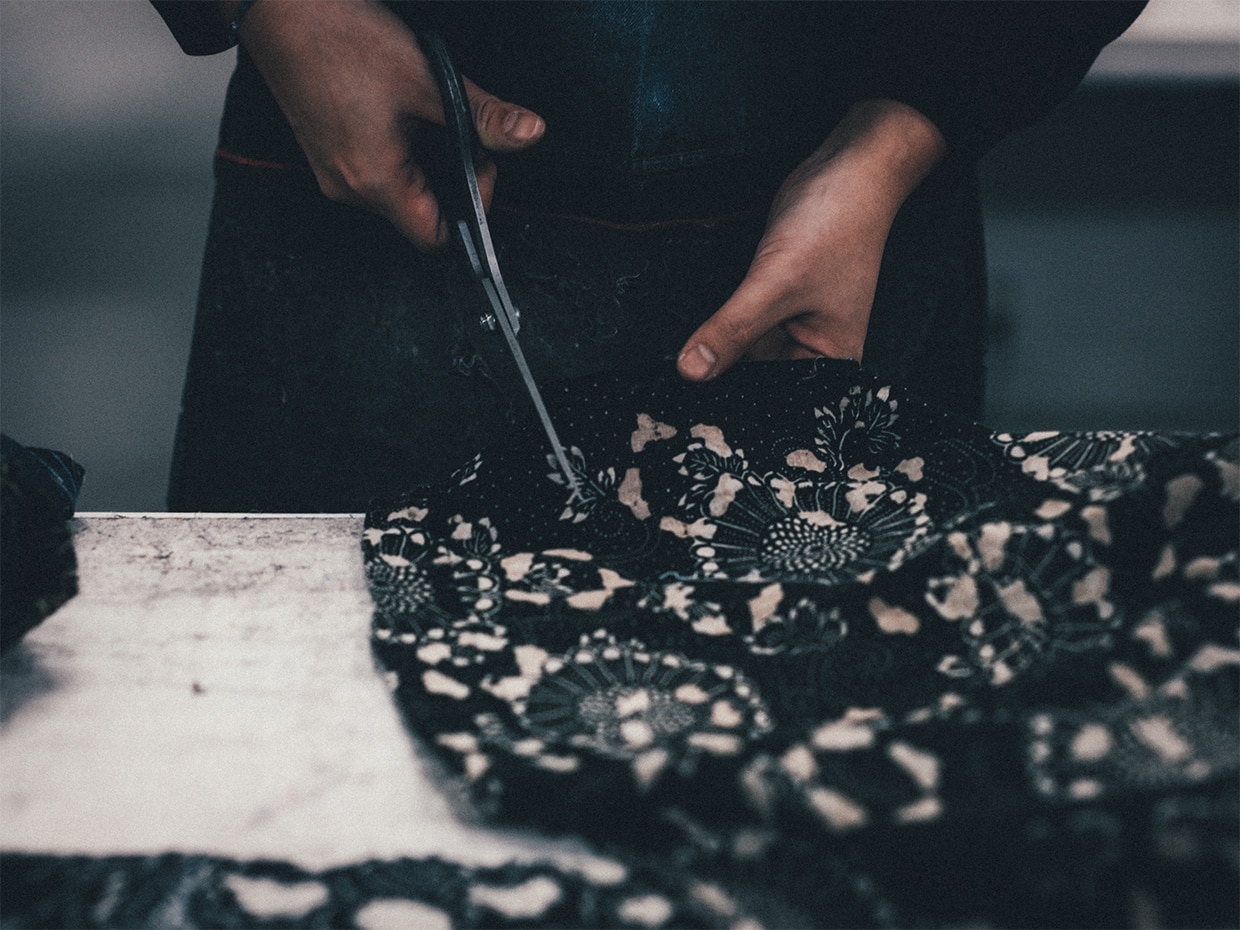 ―It was an incredibly cool matching set. It really made an impact visually.
PROT: When I saw the visuals for the collaboration, I was thoroughly impressed. 
It was a really cool picture of Airu Kubozuka with his hair slicked back, wearing the pieces from the collaboration. I thought it was very artistic and had a strong "mode" flair to it. As I am only concerned with creating things (rather than documenting them), I felt great satisfaction in seeing that the visuals of the collaboration had a "mode" element to them, which wasn't something that I necessarily intended when I was designing the pieces.
― I see a lot of vintage bandanas and old fabrics being used in the second drop that will be released in January 2023.
POGGY: Vintage bandanas are actually becoming harder and harder to find these days. The old fabric used in the second collaboration is also rare – it was made 100 years ago. I think that PROLETA RE ART uses vintage fabrics not out of necessity, but because they are attractive from a sensory perspective.
PROT: As POGGY says, we often use old materials because they feel more expressive. However, I believe that what is more important than the fabric itself (and whether or not it is vintage or new) is how the fabric processed. I don't hoard vintage and antique items simply because they are old. I also want to make sure they look cool when they are worn, since I am running a fashion brand at the end of the day. 
I want to mix fabrics so that you can't tell what's vintage and what has been processed. I want to create something that has a vintage aura – something that confuses you. 
I am interested in the concept of "hacking" things to dramatically improve or alter their performance beyond their original state. This is what I want to achieve with clothing. Therefore, I use both old and new materials, in addition to materials with different origins, such as bandanas and old fabrics, in order to create a sense of unity through fabric processing. I use combinations of fabrics that are nearly impossible to dissect just from looking at them. 

That is why I never listed items on the auction sites I used to use as "PROLETA RE ART". I would write simply "this is a customized vintage piece," and not respond to any questions that came in. 
We thought it would be interesting to create items that would confuse vintage collectors. So, we came up with a policy of posting only product images with limited descriptions (e.g. size), and asking interested parties to buy them for however much they wanted.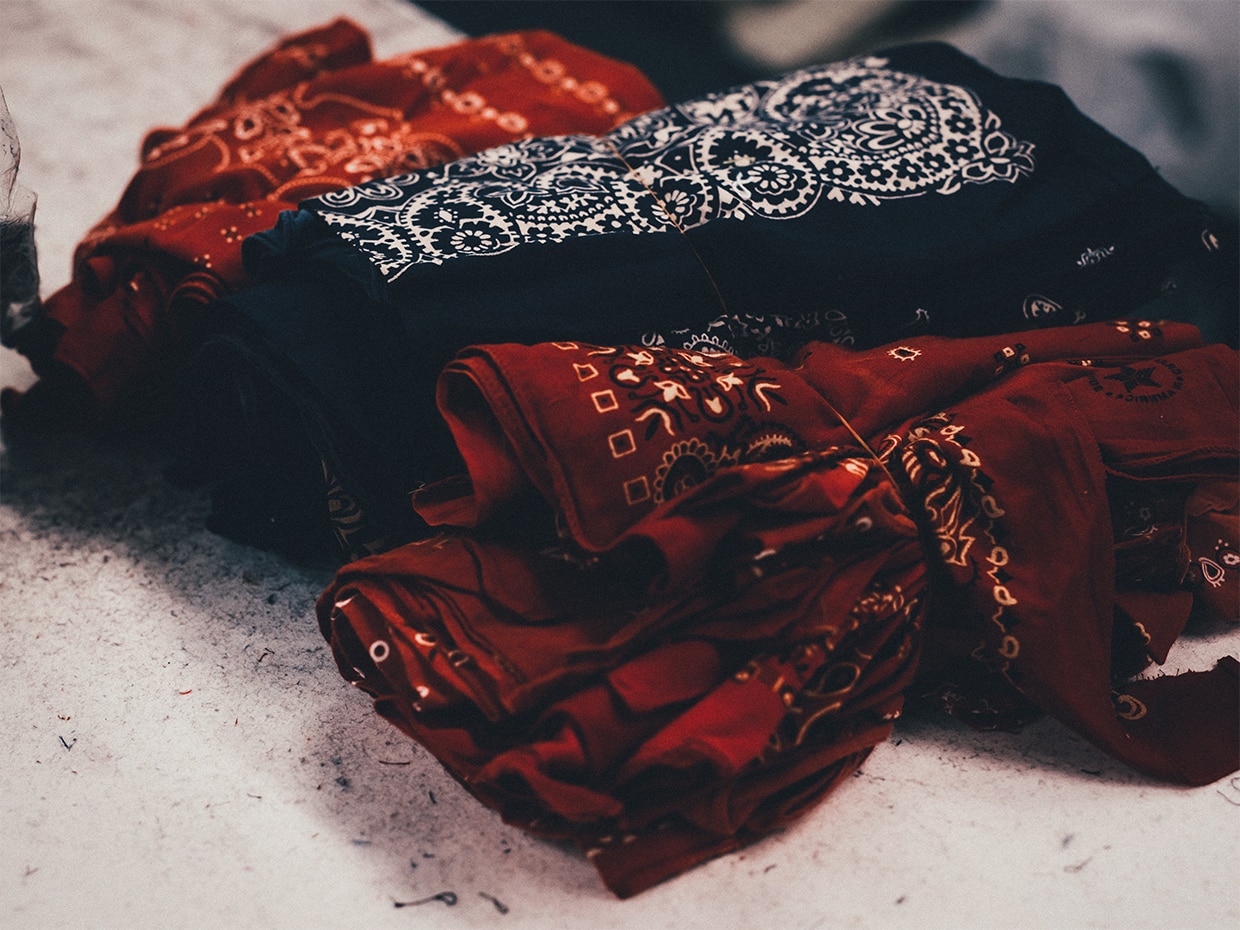 ―We are looking forward to seeing what your second drop has to offer. Thank you for your time today.
PROLETA RE ART
PROLETA RE ART was launched in March 2021. The aim was creating "clothes that you will never want to part with" by "hacking" used clothing through repair, customization, and distressing.

PROLETA RE ART maintains tight control over the quality of its creations by conducting all stages of production – from design through to finishing – in-house in its atelier.
PROLETA RE ART Products Page
https://wildside-online.com/shop/r/r5010/