Vol. 11
Stylist Atsushi Okubo, a Key Figure Behind Y's for men, Shares Secret Stories About the Brand's Photoshoots
Stylist: Atsushi Okubo
Interviewer: Motofumi "POGGY" Kogi
Atsushi Okubo served as head stylist for many of the Y's for men catalogues beginning in the 1980s.
In this interview, he reveals some stories behind the brand's photoshoots, which were taken at various locations around the world.

―Tell us about how your relationship with Yohji Yamamoto began.
The first time I worked with Yohji Yamamoto was for the AW '85-'86 Y's for men catalogue.
I was contacted by a member of Yohji's team, who said: "Before we give you the job, we would like you to come and meet Yohji once." 

So, I went for an interview in Shibuya. I was waiting there nervously, when suddenly he appeared. He said to me: "that's a very elegant jacket you're wearing." 
Then, he told me "Please feel free to work with whatever photographers and art directors you please. You can work however you like." And that was the end! (laughs) 

To be honest, I felt an immense sense of pressure. After that, I got in contact with Yokoyama of DIAMOND HEADS INC. and my friend Morikawa, a photographer who I had worked with many times in the past, and we got to work right away. 

Actually, when I received the job offer, a version of the AW '85-'86 catalogue had already been created by someone else – to the point where it had already been printed and was ready to go. However, it seemed that this was being rejected because somebody wasn't satisfied with the finished product. When I saw the pile of rejected catalogues sitting at the Yohji Yamamoto headquarters I thought: "If my catalogue ends up like that, I'll be in trouble." (laughs) 

We had to overcome a lot of challenges on the day of shooting. I was set on doing something different to anything I had ever created before. We went to the abandoned military air base in Fuchu in the western suburbs of Tokyo and built a tiered stage, where we shot a group of 48 models as they walked around in natural daylight. The problem was that it was raining on the day, and our studio was destroyed by the wind and rain. But actually, there was a great atmosphere after the rain stopped, and it ended up being a really cool shoot.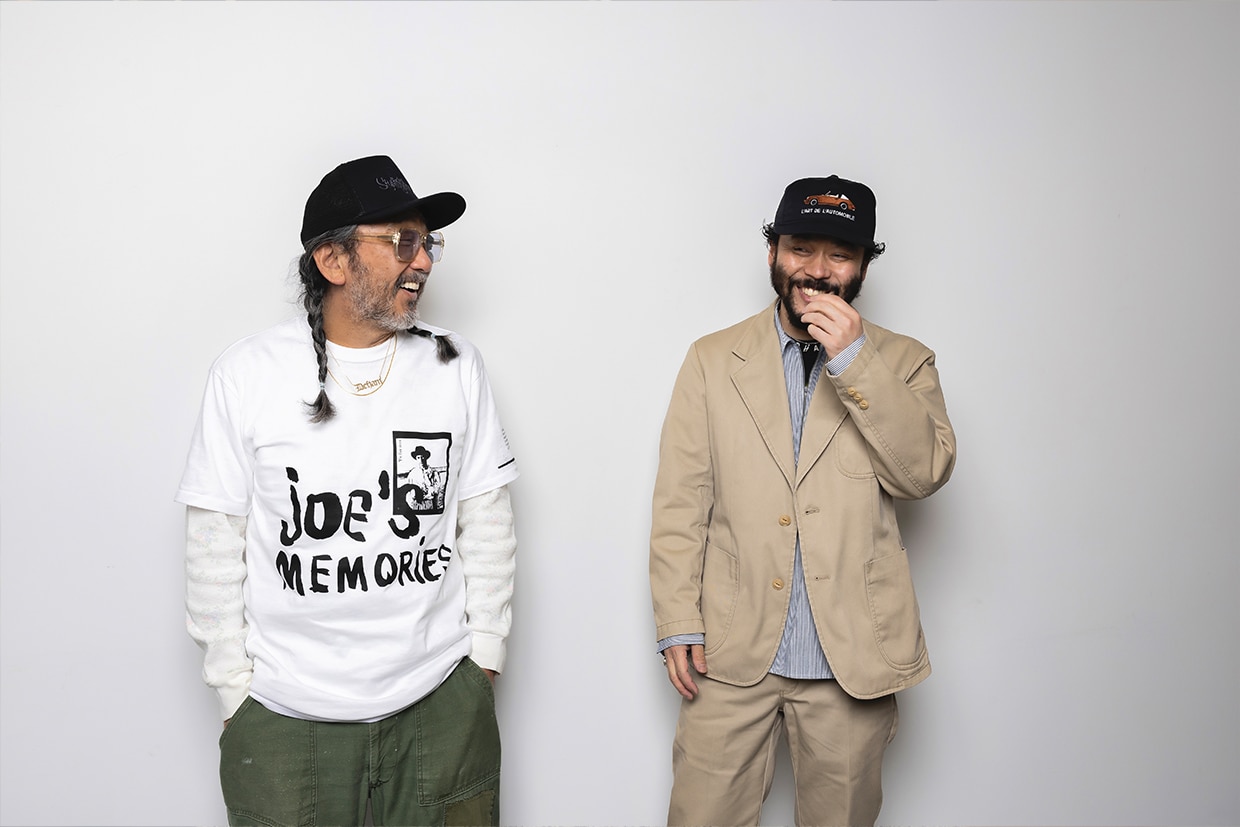 ―After that, you were involed in shooting for Y's for men many times. How did you feel when shooting the photo that is now featured on the WILDSIDE x Y's for men collaboration T-shirt?
I was really overwhelmed by the intense energy of the model, Joe McKenna. Joe works as a stylist in New York, so he's in the same line of work as me. 

When I went to meet him for the first time before our photo shoot, I brought along 2 paper bags containing my own Borsalino hats. He showed up wearing a shirt, black jeans and white sneakers. It was a casual look, but it was complete. My personal style wasn't fully developed at the time. Seeing Joe like that made me get up and go to the bathroom of the restaurant where we were eating lunch and get sick. If the same thing happened to me now I would be fine, but at the time I was mentally weak. 

It was an extremely memorable shoot for me in many ways. When I look back at the images now I still think they're cool.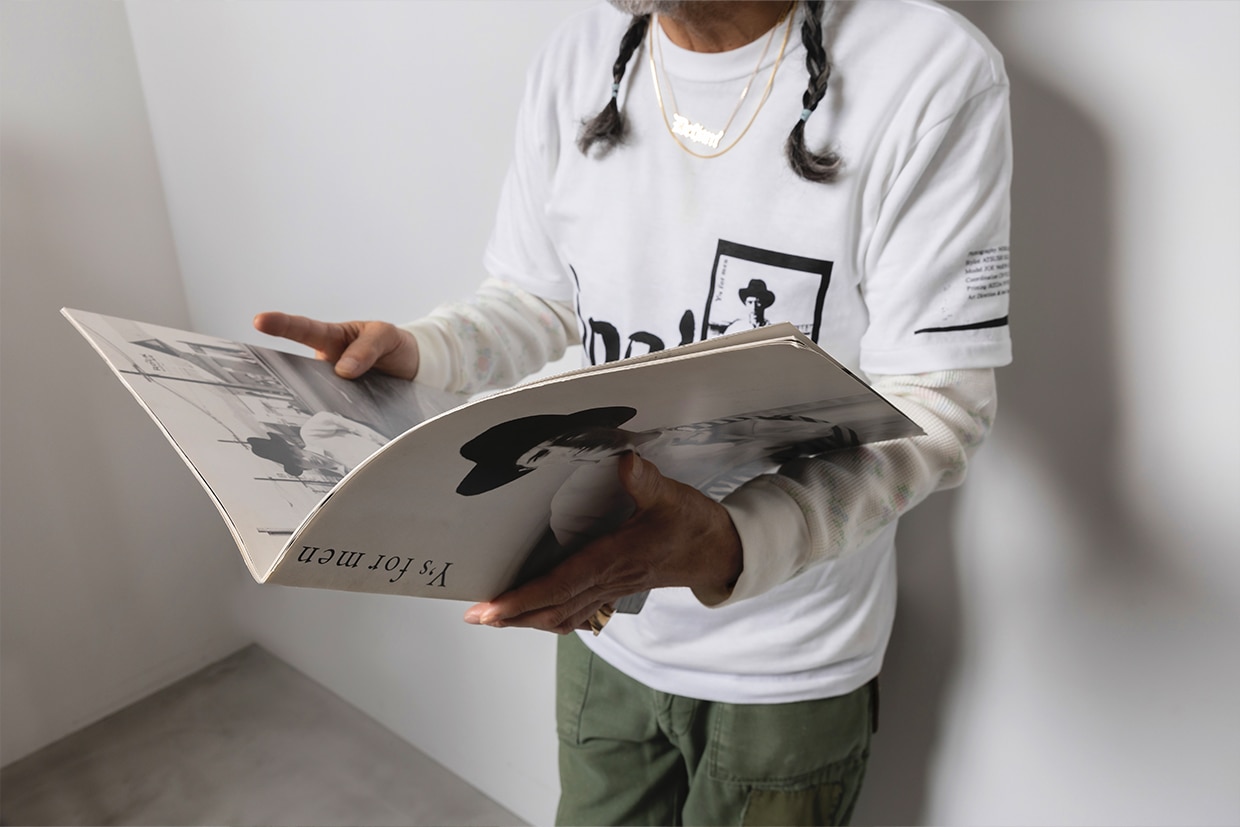 ―Atsushi, can you explain why you chose this particular visual for the collaboration T-shirt. Also, what is your impression of the final product?
To put it simply, I want to wear a striped suit like the one in the photograph.
I'd really like to wear a suit like that nowadays. That's why I chose the image. It's as simple as that.

To think that something I created 40 years ago has now become a T-shirt really moves me. I am so happy. I'm glad to be alive.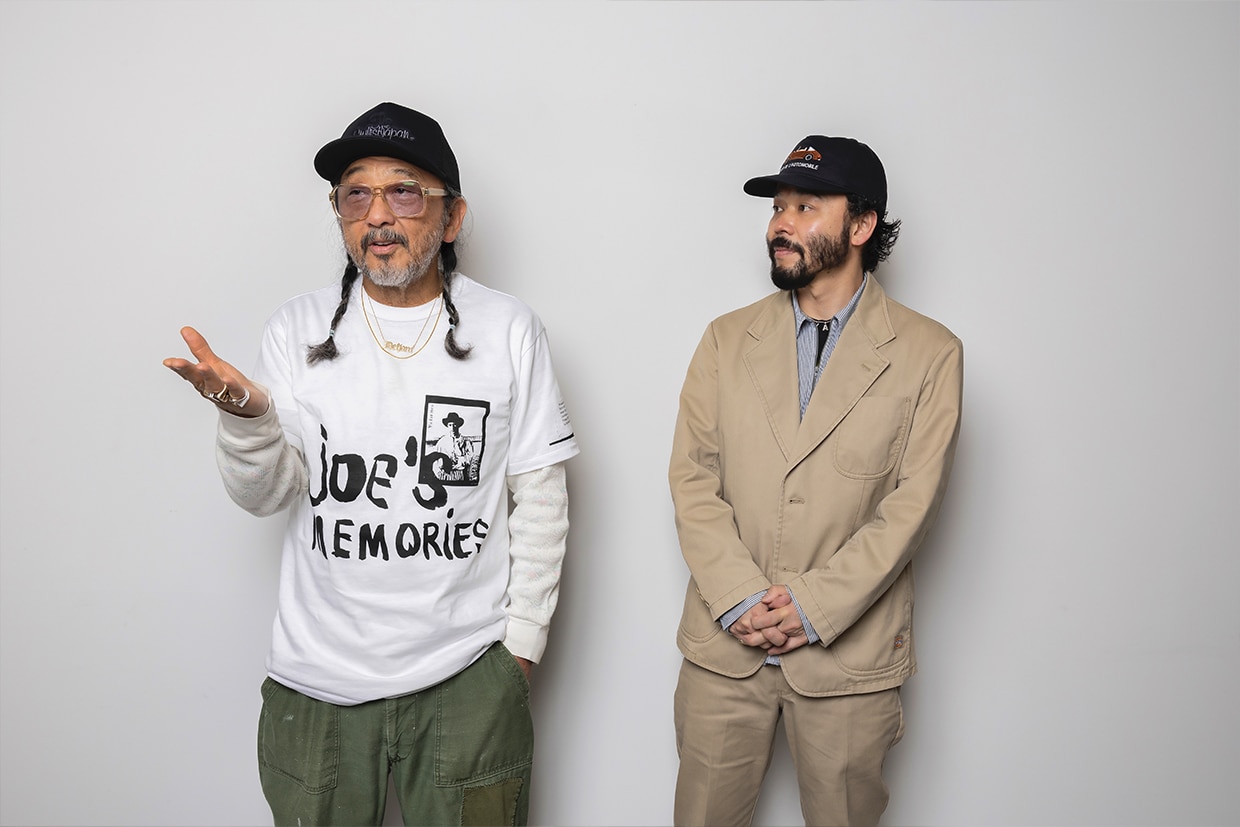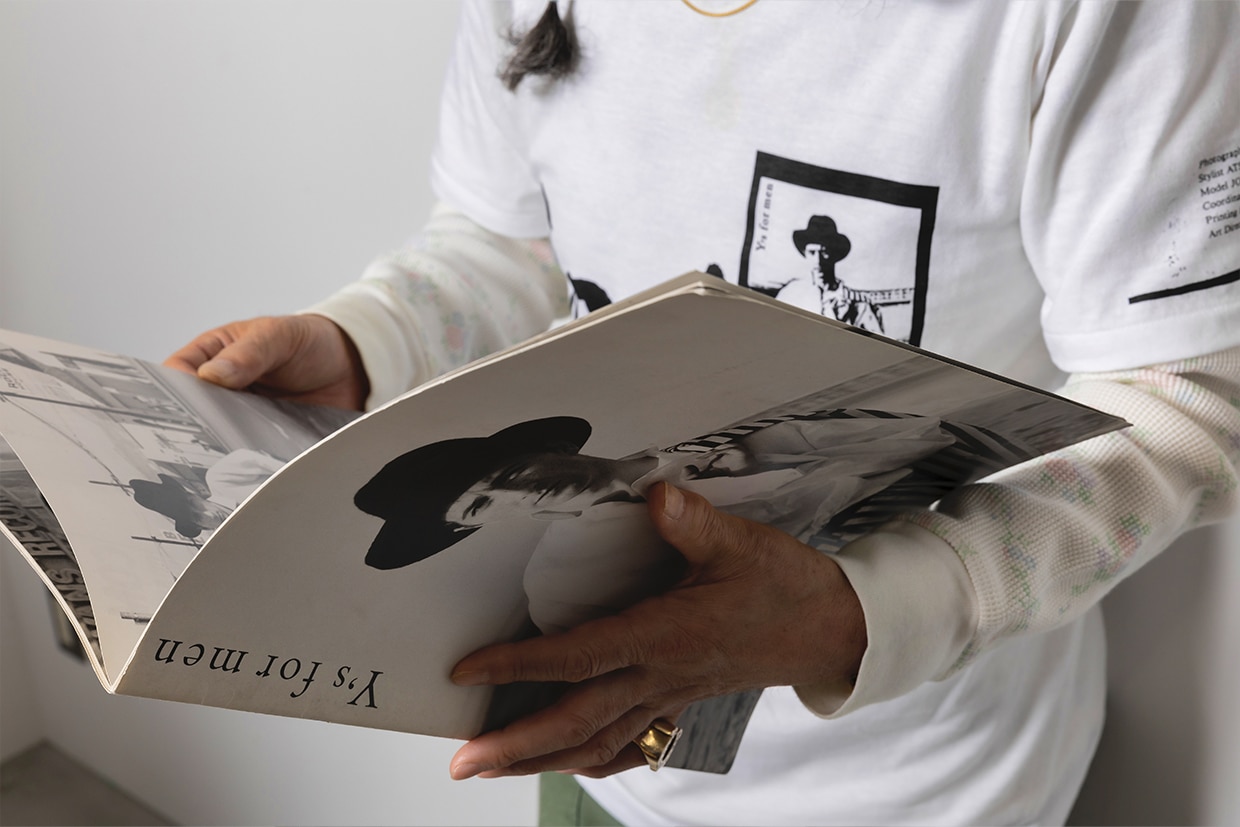 ―We are honored to get your input on this collaboration between WILDSIDE and Y's for men (which is being relaunched in 2023). Thank you very much for your valuable insight.
Photos: Noboru Morikawa
Profile
About Atsushi Okubo (Stylist)
Born in Hokkaido, Japan in 1955.
After studying under stylist Katsuhiko Kitamura, he started his career as a stylist at "POPEYE" and "an an" magazines. Since then, he has styled various models, actors and musicians for magazines, advertisements, album artwork and more.
He was head stylist for many of the Y's for men catalogues, starting in the 1980s.
In 2006, he launched his own brand, The Stylist Japan.
■Official YouTube
https://www.youtube.com/@okubomegane742/
■Official Instagram 
https://www.instagram.com/okubomegane/