Vol.7
Photographic Works by Takay that Capture the Yohji Yamamoto POUR HOMME Autumn/Winter 2022-23 Collection
An interview with Takay, conducted at his photography installation currently on display at WILDSIDE YOHJI YAMAMOTO OSAKA.
―Tell us about your first encounter with Yohji Yamamoto.
A little after I went to New York, I was approached by Terry Jones, the then editor-in-chief of iD. Magazine. He asked me to do a reportage photography piece in Tokyo for TASCHEN's new book about Yohji Yamamoto. It was then that I met Yukio Ninagawa and the staff at Yohji Yamamoto, and had the opportunity to photograph them as models.
Years later, I reconnected with the staff at Yohji Yamamoto in Tokyo. After some discussion, we decided to collaborate again, and I asked if I could shoot the Yohji Yamamoto archives. The result of this was the photo book "Fluence: The Continuance of Yohji Yamamoto," which was published in 2020.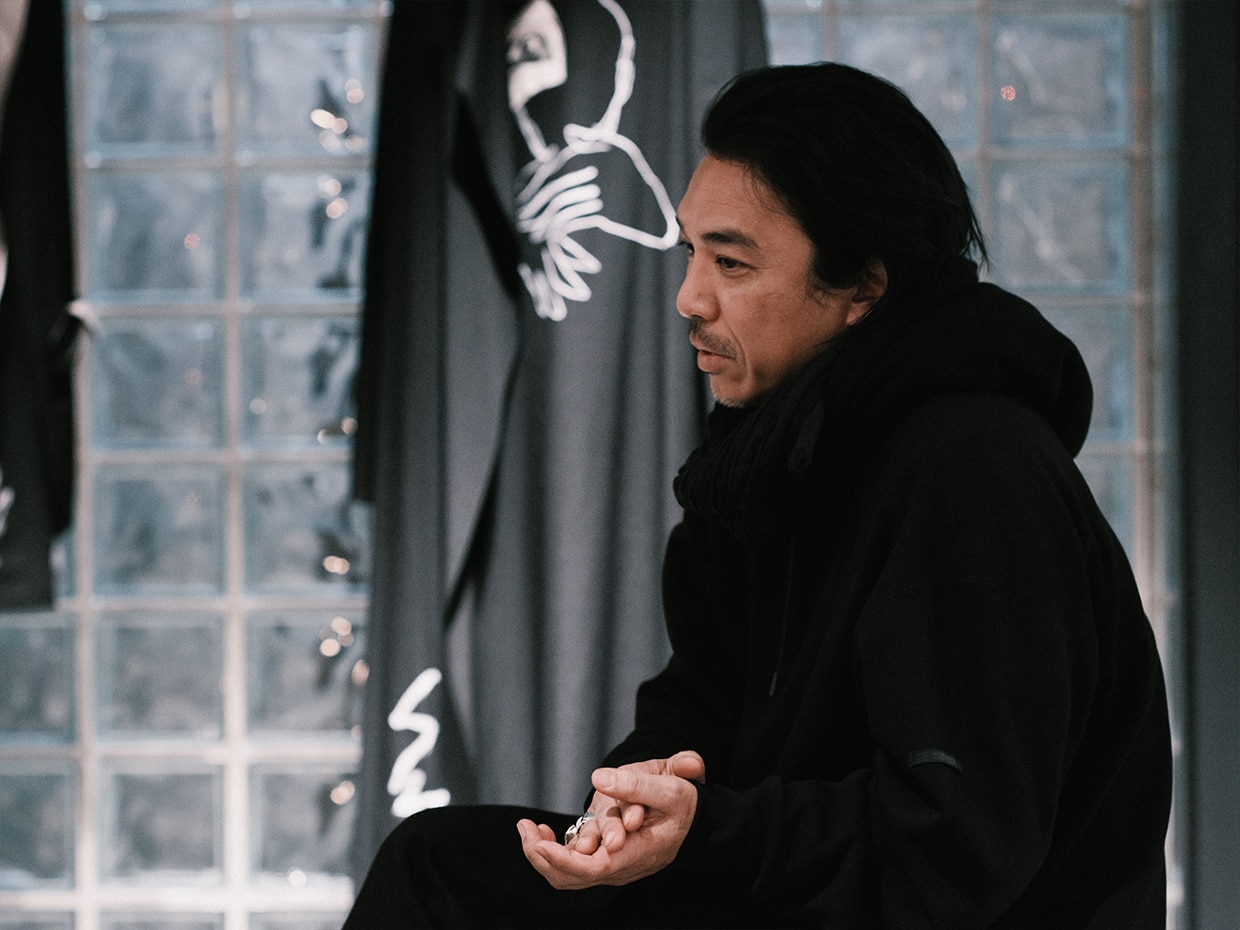 ―After that, I was asked to shoot Yohji Yamamoto shows continuously, starting with the S/S 2021 collection.
At that time, the world was in the midst of the pandemic, so I decided to move from New York back to Tokyo and work from my new base in Japan. At that time, Yohji Yamamoto Inc. asked if I would be interested in collaborating with them, as they were considering doing a show in Tokyo.
―To date, I've had the opportunity to shoot the past four seasons' worth of Yohji Yamamoto Pour Homme shows.
In addition to Homme, I 've also shot one Femme show. I was also in charge of the overall direction of the Yohji Yamamoto POUR HOMME S/S 2023 show, which had a live audience for the first time since the start of the pandemic.
―Directing an entire show with a live audience is obviously beyond the normal responsibilities of a photographer – how did you feel about being asked to do this?
I was incredibly excited. At first, I wasn't responsible for the overall direction of the shows – my job was filming and shooting, and presenting my work in digital formal at Paris Fashion Week for three seasons. I used these seasons as an opportunity to learn about how Yohji likes to work, his sense of aesthetics, etc. I approached shooting every show as if there was a live audience present, so when it came to the real thing, it was a surprisingly natural transition for me.
―What has been your most memorable experience shooting for Yohji Yamamoto?
That would have to be the first time I filmed a show in 2021. It was the first time I shot with Yohji himself sitting in front of me. Watching me run around filming the models as they walked, Yohji remarked that he had never watched one of his own shows while sitting down before; he said it really made him feel like he was watching the show as a normal spectator. Hearing this was a memorable moment for me.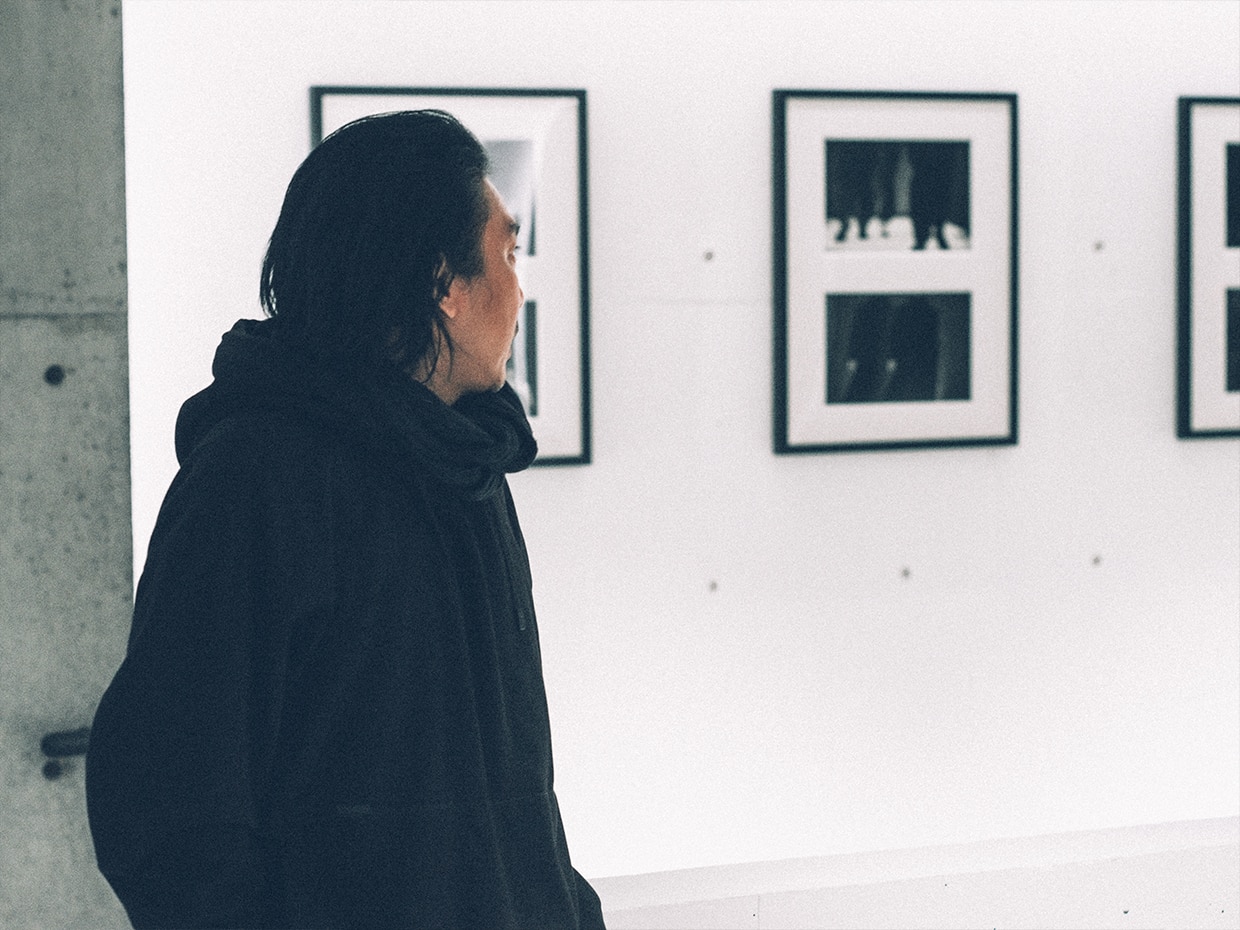 ―What is the most striking thing about Yohji Yamamoto as a person?
He's an extremely charming man. But has also has an incredibly pedantic side to him. And of course, he is particular about black, but also about white. Yohji doesn't like pure, bright white. He will meticulously choose the perfect shade of white that has a slightly off-white hue to it. I think he also greatly values texture in his creations, and he has a very delicate sense of beauty.
―You have taken countless photographs for Yohji Yamamoto Inc., but this is the first time for us to exhibit them as works of art. Could you tell us why you chose the photos that you did, and what your intentions were behind this curation?
When I edited the photobook for Yohji Yamamoto Pour Homme A/W 2022-23, I thought that the landscape photographs I had been taking would pair well with the mood of the collection, so I incorporated them into the book along with photos of each look. By combining portraits and landscapes, I feel that I can capture a broader view of the world than if I were to present just one photograph at a time.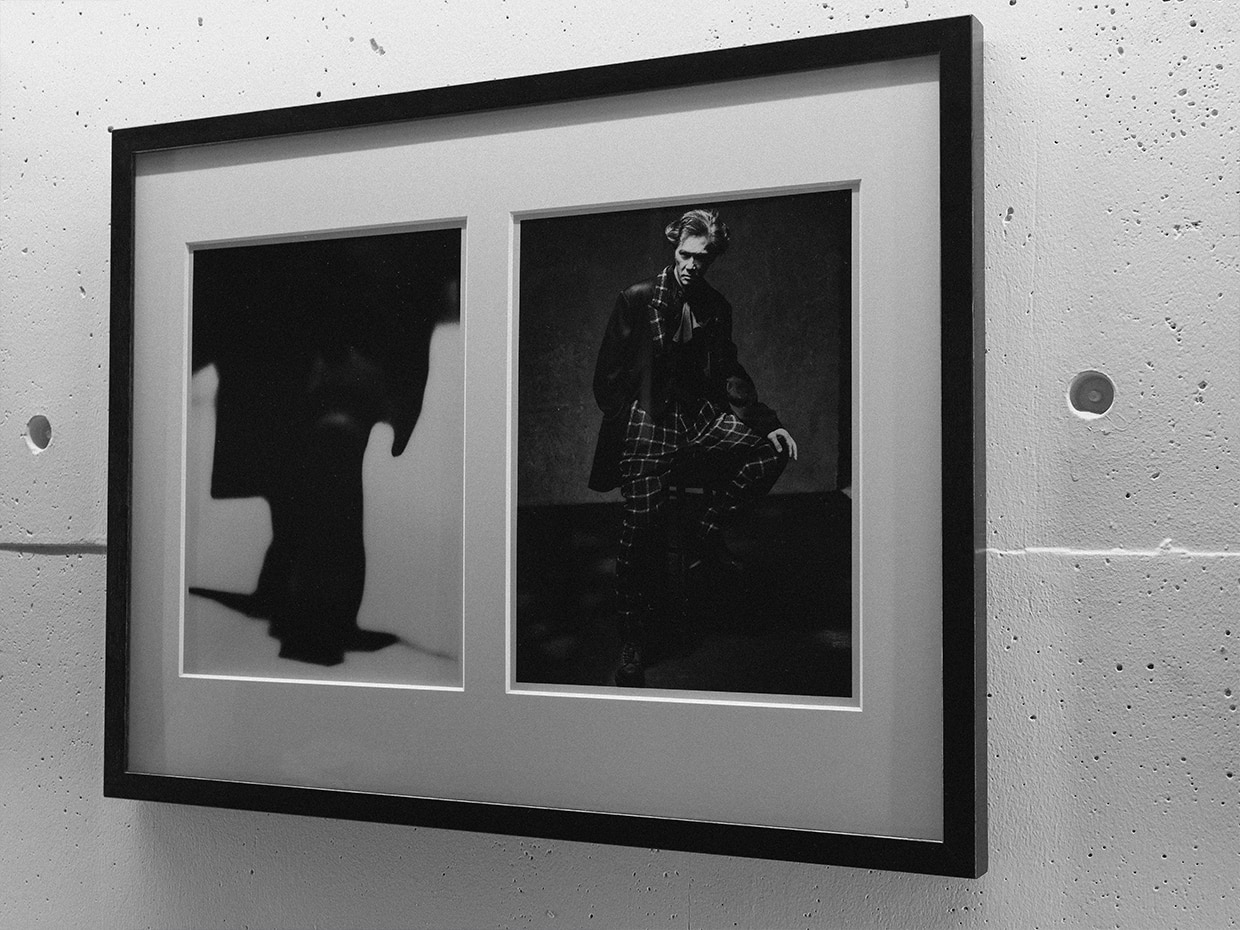 ―I can see that this approach is directly incorporated into your pieces on display at WILDSIDE. Which is your favorite piece on display?
I like No. 3, which is a photograph of a model's lower half. I think this is a symbolic piece.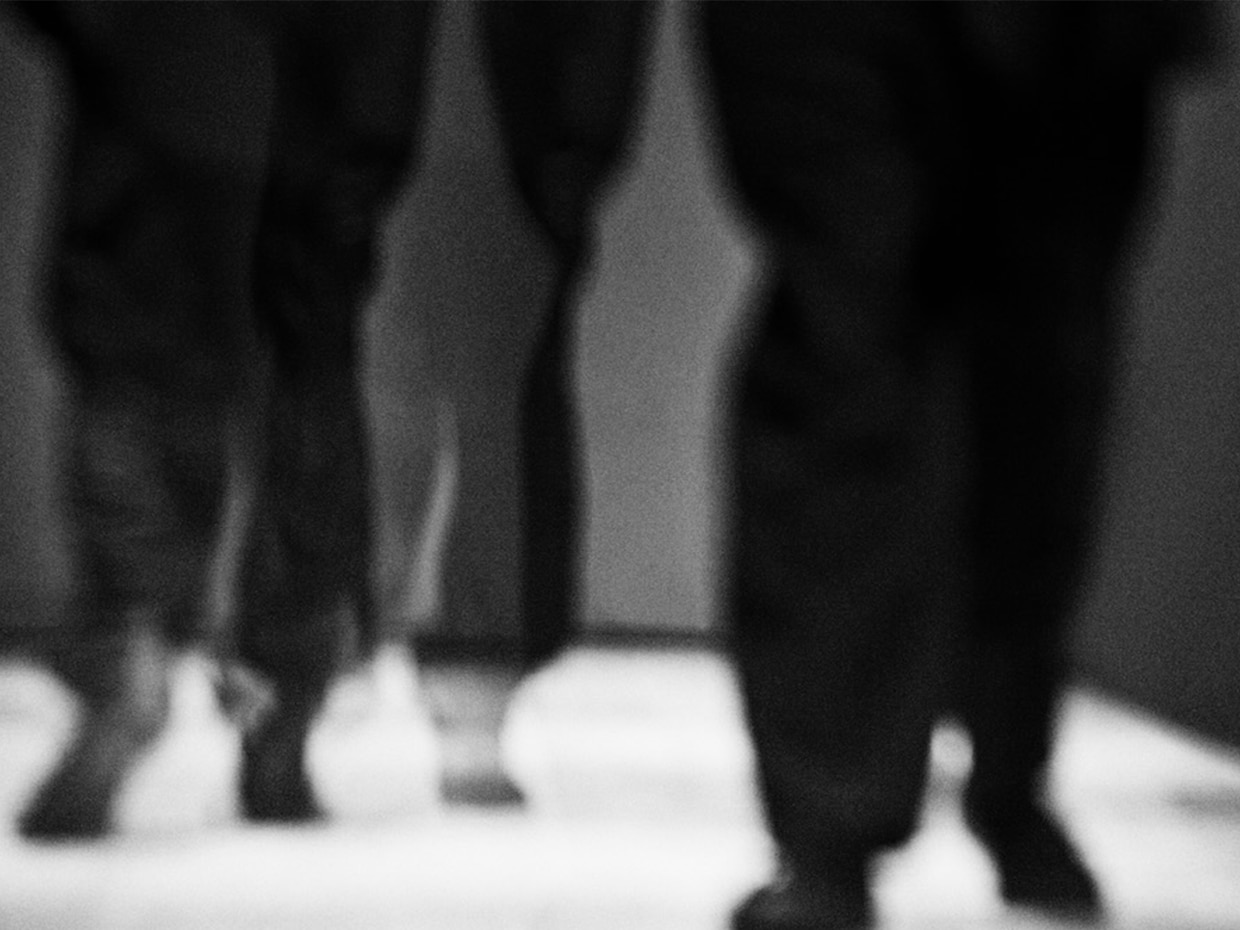 ―What are your plans for the future?
I am planning to go to the next Yohji Yamamoto Pour Homme A/W 2023-24 show in Paris. I also plan to produce more works like the ones currently on show at the Akio Nagasawa Gallery in future.
(Takay's exhibition "TOKYO HANABI" is currently on display at the Akio Nagasawa Gallery in Aoyama, Tokyo. It runs until January 28, 2023)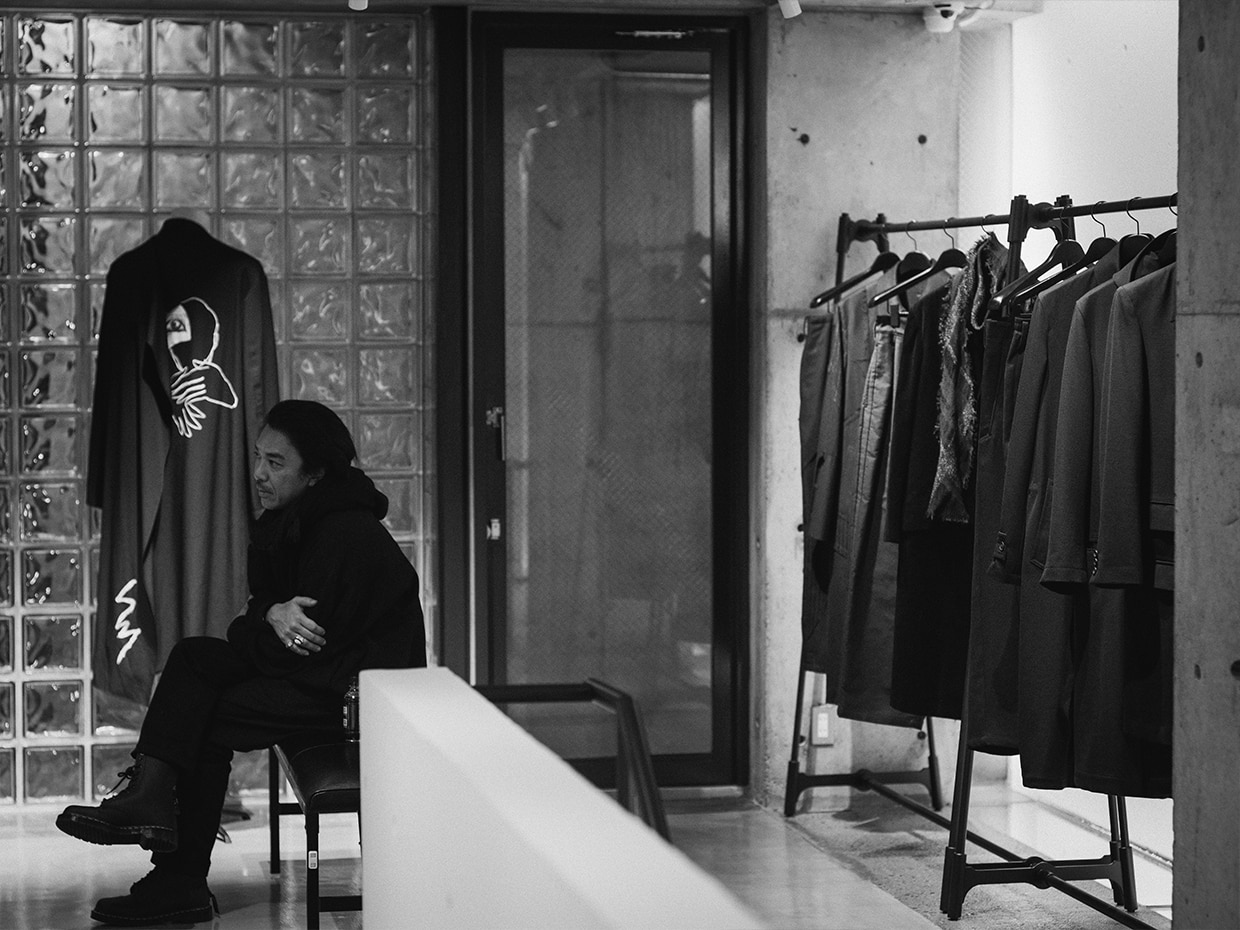 WILDSIDE YOHJI YAMAMOTO OSAKA
TAKAY: Photographs from Yohji Yamamoto POUR HOMME A/W 2022-23 Collection
AKIO NAGASAWA GALLERY
December 16 2022 – January 6 2023
​
All works on display are available to purchase online. For details, please contact WILDSIDE YOHJI YAMAMOTO OSAKA (+81 6-7662-8038).

ABOUT TAKAY
Born in 1973, TAKAY moved to the UK in 1996 and started his career at the British fashion magazine iD. Currently based in Tokyo and New York, he works internationally for fashion magazines such as Harper's Bazaar Germany and L'UomoVogue, and produces campaign images for Armani Jeans and Y-3. Major exhibitions include "Bravehearts: Men in Skirts" (Metropolitan Museum of Art, New York, 2003), an expanded version of the exhibition held at the Victoria & Albert Museum in 2001; "CULTURE CHANEL" (Shanghai Museum of Contemporary Arts, Shanghai, 2011), about the history and creative direction of Chanel; "The Fashion World of Jean Paul Gaultier: From the Sidewalk to the Catwalk," which traveled to 12 cities around the world between 2011 and 2016 and "PUNK: Chaos to Couture" (Metropolitan Museum of Art, New York, 2013). He is the editor of "ECHOS" (2016) and "Fluence: The Continuance of Yohji Yamamoto" (2020). His latest book " IN PRAISE OF SHADOW (HOMAGE TO TADAO ANDO)" was published by Akio Nagasawa Publishing in 2022.