Vol.5
Granite stool made by EYEFUNNY OBJECTS for WILDSIDE
EYEFUNNY OBJECTS Designer
Jury Kawamura
EYEFUNNY designer Kawamura's new project EYEFUNNY OBJECTS produced for WILDSIDE Skull rose K stool made of black granite.
POGGY: Mr. Kawamura, it's been 20 years since you started EYEFUNNY jewelry.
Kawamura: In April 2020, I couldn't go abroad because of the coronavirus, and all my business trip plans were cancelled. So, let's do something that can only be done now, I started a project called EYEFUNNY OBJECTS to create art and sculptures other than jewelry that I've always wanted to do. When I went to the Isamu Noguchi Garden Museum in Mure Town, Kagawa Prefecture, which I had been interested in and wanted to visit for a long time, I had the opportunity to meet stonemason craftsmen and members of the Chamber of Commerce in Mure Town, and introduced them to various people. Thank you. While talking about what I wanted to do there, I met someone who wanted to work with me. So this project of making stone objects and furniture started. With this material that Isamu Noguchi and George Nakashima fell in love with, I began to think that it was meaningful to create works with respect for this era. Luckily, people like POGGY and Daniel Arsham are interested in my creations, and I feel the possibilities. I am happy to be able to work with WILDSIDE on this project again.
POGGY: The chair you made for WILDSIDE this time is the same model as the first chair you made when EYEFUNNY OBJECTS started, right?
Kawamura: Yes. One of the first chairs I made. As you can see, the idea source is a wooden stool called the Berge Stool, which is inspired by a shepherd's chair, and I thought it was really beautiful. I started making chairs because Isamu Noguchi and George Nakashima designed furniture as well as art pieces, and in that context, they were not just objects to be seen, but were used as a part of life together. I wanted to make a work that grows. I thought about what I could do there, what I wanted to do, and what I wanted to create, and drew pictures in various shapes and made samples, but this stool was the most beautiful. With three legs, even if the floor is uneven to some extent, it can stand properly and be stable, and it is also practical. With four legs, if you put it on a non-flat surface, it will be unstable and rattle. The three legs are really well made, and since the fulcrum is taken at three points, it is used so that the shepherd can sit outside for a while while chasing the sheep. The design is practical, and the appearance is complete and beautiful. I thought about what it would be like if I made this with stone and designed it.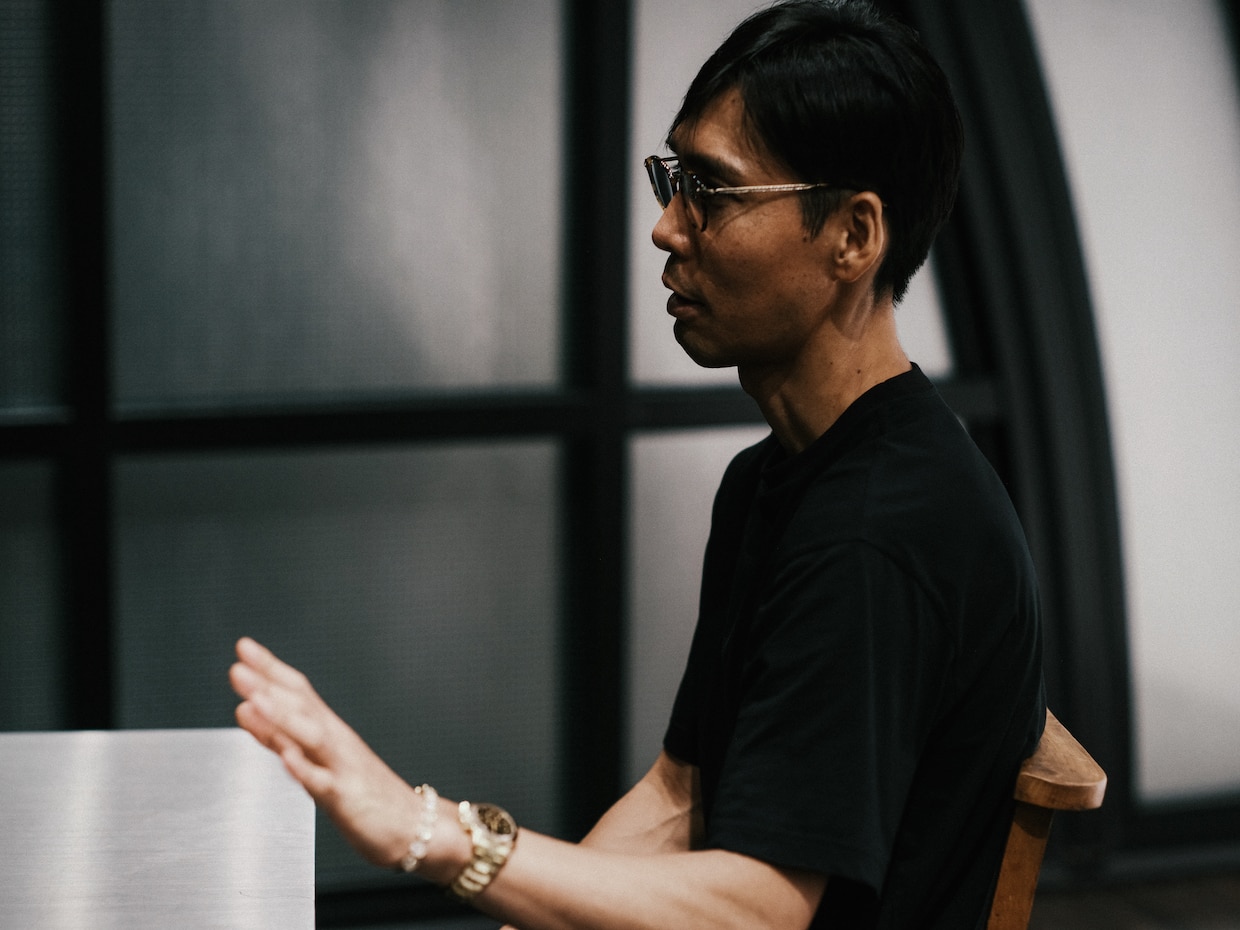 POGGY: This time, we had you make a Berge stool using granite. This granite speckle pattern is very beautiful.
Kawamura: Most of the sculptures made overseas are made of marble, but in Japan, only a small amount of marble is produced. Instead, a large amount of granite called granite, commonly known as granite, is produced. There is a granite mountain in Mure town in Kagawa and it was used in the construction of Takamatsu Castle, so it has a history of 400 to 500 years. Since then, the stonemasonry industry has been handed down from generation to generation. Mure town is full of stone shops.
Kawamura: Granite has really interesting spots. Even from a global perspective, Japanese granite has very beautiful mottles and high hardness. Marble is softer and more viscous, so it can be scraped off with a leutor. However, since granite is hard, it cannot be scraped with a delicate leutor. Because it has spots, it cracks with a snap.
POGGY: That's why it's durable.
Kawamura: Yes. The outdoor sculpture of Isamu Noguchi is also made of granite. It is said that if the stone is beautifully carved by a craftsman, it will not decay or crack even if left outdoors for 200 years. In order to make this possible, it is important for the stonemason's eye to see the stone, and without it the work cannot be done. What I found interesting was the commonality between fabrics, leather, and stones in the clothes that everyone usually deals with. I think that the direction in which cloth is easily torn depends on the direction of weaving, and it is the same with stones. How do you like it? But when I asked a masonry worker, "Why do you know the direction in which a stone will break?" I think that's amazing.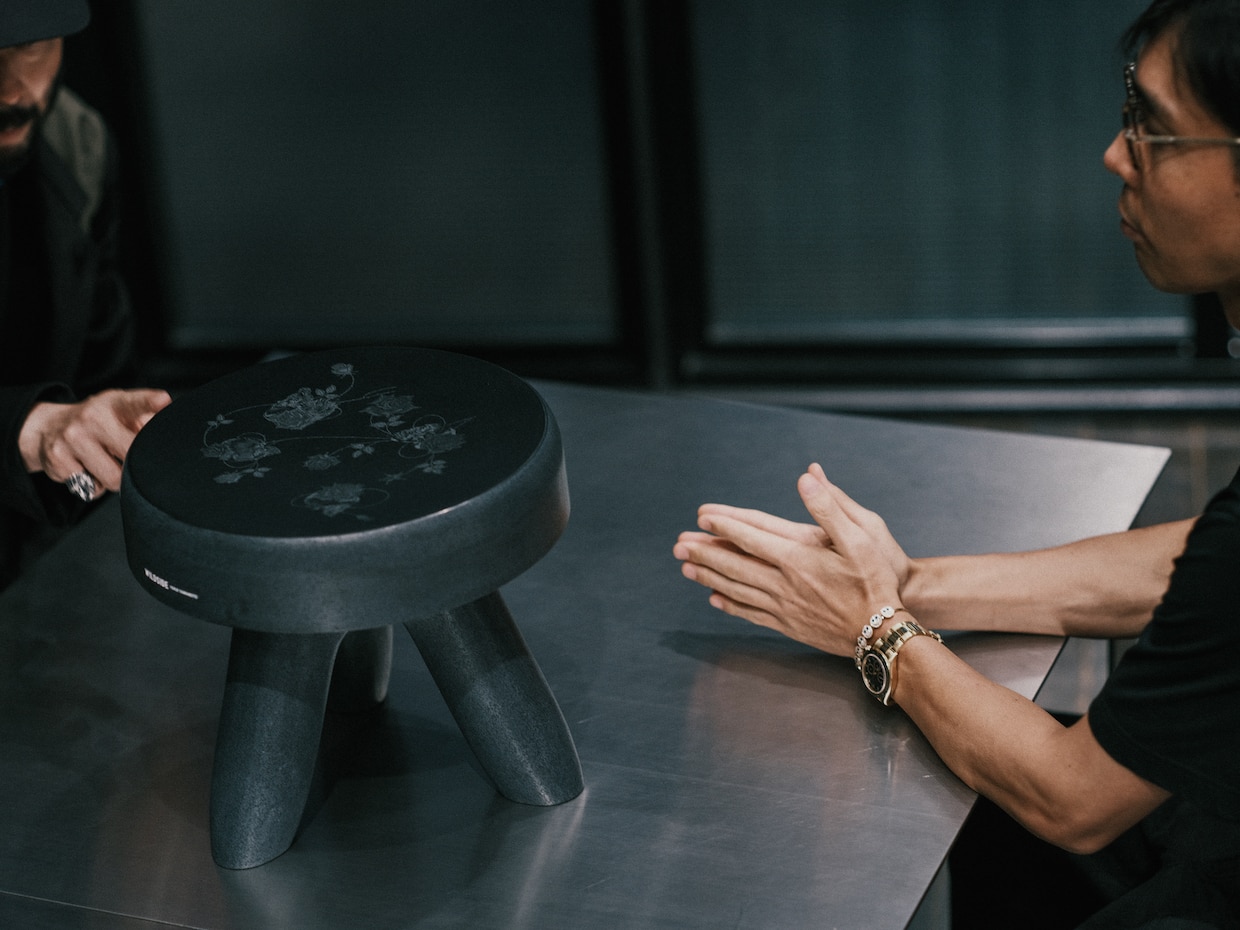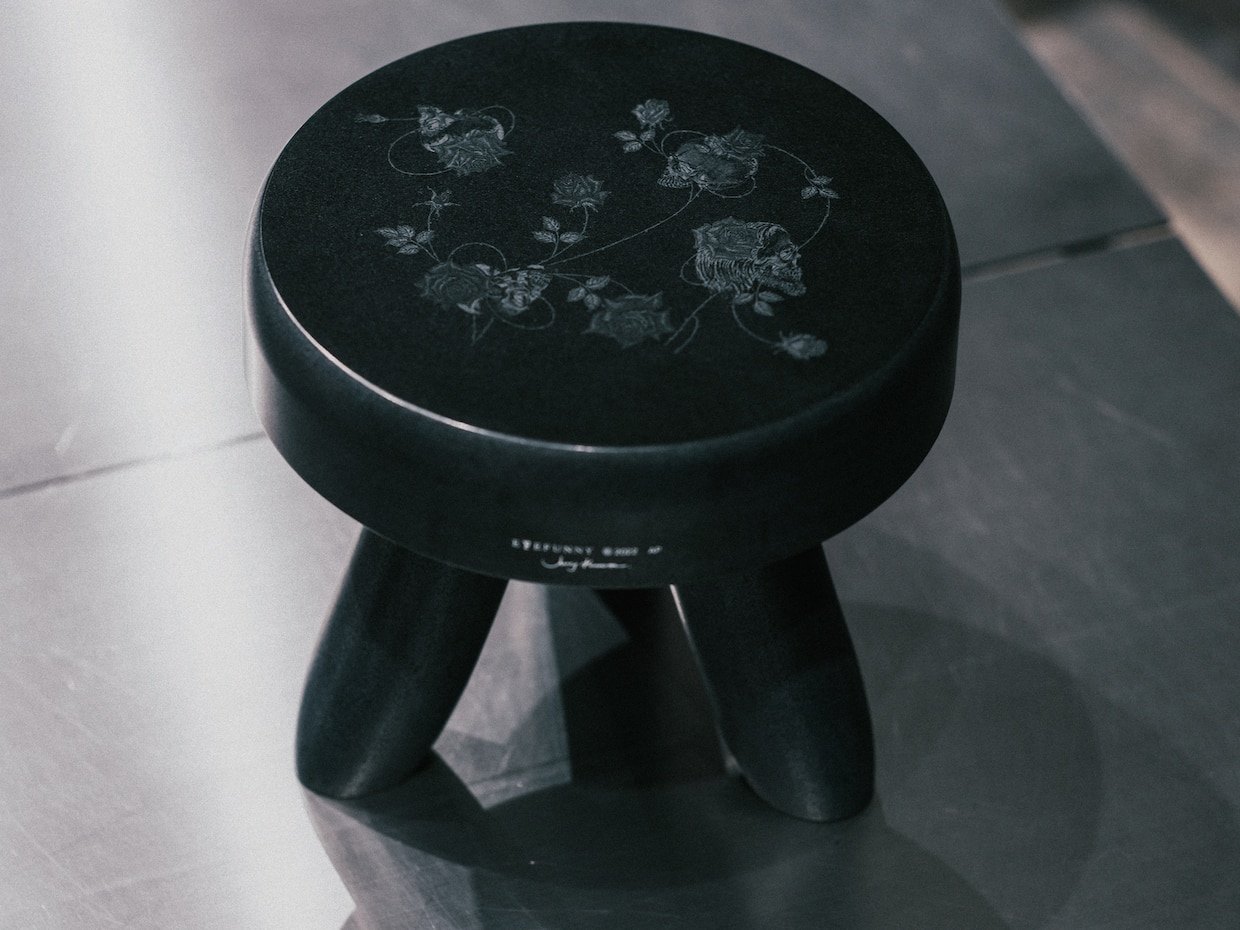 POGGY: The top plate is decorated with Yohji Yamamoto 's symbolic pattern, Skull Rose.
Kawamura: I also have a Yohji Yamamoto floral coat, and I remember seeing this Skull Rose setup in the collection. From then on, I thought it was a very beautiful rose.
POGGY: Do you use the same stools at home?
Kawamura: There is a one-seat sofa made by Daniel Arsham in the living room, and I put it next to it as a stool. The best use is as a stepping stone for a 4-year-old child to climb onto the sofa (laughs).
POGGY: Cute!
Kawamura: It's heavy, so even if a child pushes hard, it won't move. It is both practical and safe (laughs). But I usually put a little something on it. Basically, even if I'm told that I want the work, I don't sell it. Therefore, AP (Artist Proof) is included in this work on the premise that it will not be sold. However, POGGY and WILDSIDE me, so I was able to realize this project.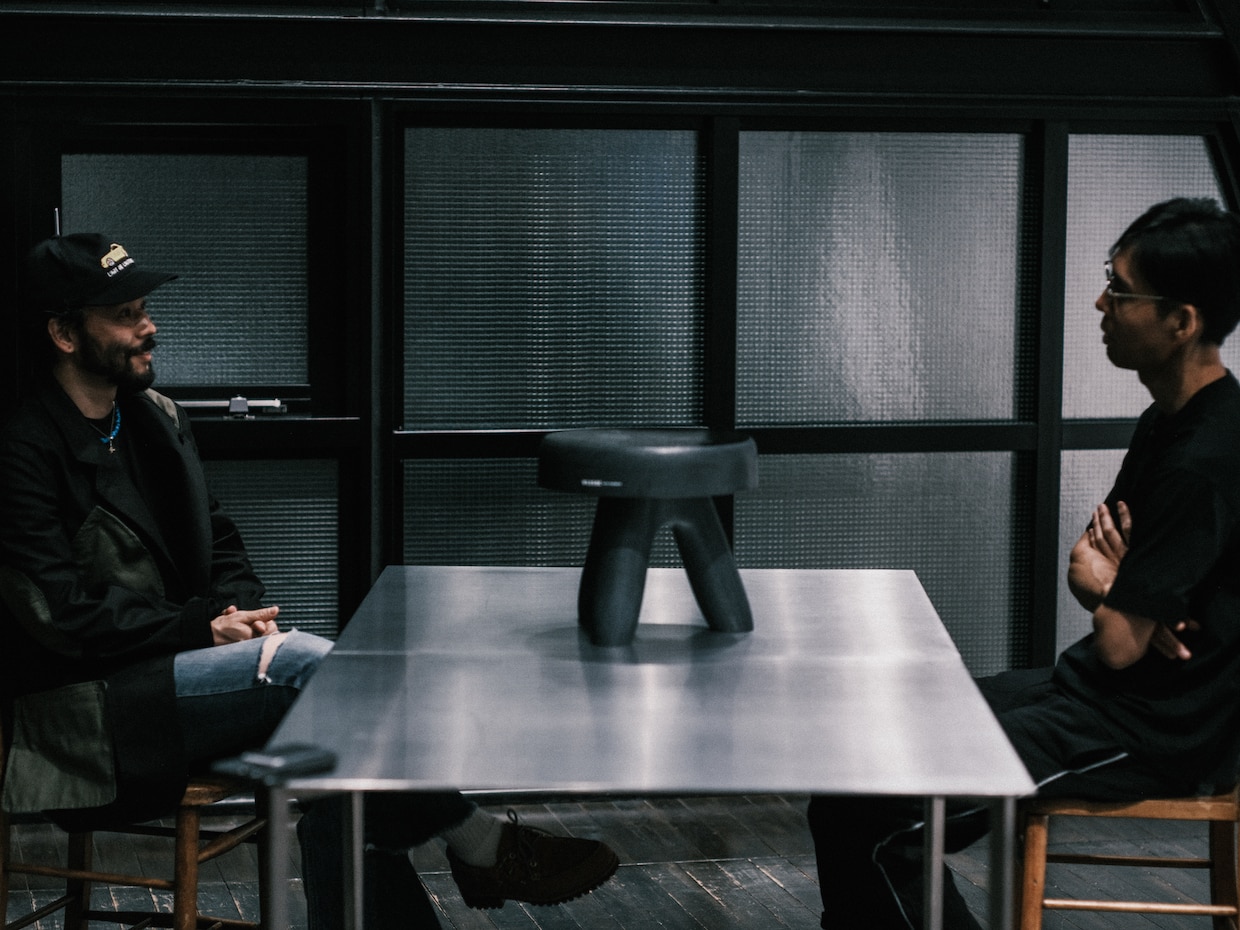 POGGY: This collaboration is special! How many of these stools have you produced so far?
Kawamura: This is the sixth point.
POGGY: Do the stools in your home count too?
Kawamura: I'm counting (laughs).
POGGY: It's very rare.
Kawamura: WILDSIDE and EYEFUNNY OBJECTS have created a valuable collaboration item, and I'm looking forward to seeing what kind of people will take it.
EYEFUNNY OBJECTS Designer Yoichi Kawamura JURY
Born in 1977. After majoring in economics, he studied design by himself and established EYEFUNNY in 2003. He also works on space design of existing stores and design of fixtures and furniture. He loves traveling and surfing, has visited more than 60 countries around the world, and has made it his life work to experience the beauty of nature with all five senses and experience diverse cultures. EYEFUNNY OBJECTS started in 2020.
Kawamura's work was exhibited at the world's number one design festival "Milan Salone 2022" held in Milan, Italy.
Reference article:
https://stockx.com/news/how-history-and-culture-guide-eyefunny/