Vol.4
Vision of BlackEyePatch and WILDSIDE
WILDSIDE Collaboration Curator Motofumi "POGGY" Kogi
Based in Tokyo, BlackEyePatch forms a world view as a brand while incorporating many subcultures. What is the core of the brand that can be seen through the collaboration with WILDSIDE?
This time, I would like to ask you about the NoirEyePatch collection, a collaboration between WILDSIDE and BlackEyePatch. First of all, could you tell us about the impetus for this collaboration?
POGGY: As a collaboration curator for WILDSIDE, I brought up BlackEyePatch's name when we were discussing what brands would be interesting to collaborate with, during a team meeting with WILDSIDE. Personally, I felt that although YOHJI YAMAMOTO and BlackEyePatch make different clothes, the tension is similar, so I made an offer to the BlackEyePatch team.
BlackEyePatch: We were surprised, but felt very honored. Of course, we knew about the YOHJI YAMAMOTO brand for a long time, but never imagined that our brand would be involved. What kind of creation is the most interesting and addictive to talk about? We immediately started thinking about it. At that time, POGGY's idea of changing the "Black" of BlackEyePatch to "Noir" (note: "black" in French) was a great fit. It fit perfectly into the standard logo format, so we were able to create something really new and fresh.
ーーThe lineup of the collection is very casual, close to the worldview of BlackEyePatch.
BlackEyePatch: We are a brand that is characterized by graphics, but when it comes to the shape of our clothes, we tend to wear casual men's clothing. This time as well, we wanted to create a collection where YOHJI YAMAMOTO's design elements fit well with what we've made so far, and that's why we came up with this line-up.
POGGY: I like to mix things with a casual street taste, centered on tailored jackets, and as the YOHJI YAMAMOTO brand is known for its tailored jackets, so thought it would be an interesting match with that kind of world view. For example, matching a baseball shirt with a tailored jacket. I like that kind of dressing, so it's an item that I really like and want to wear. I think it's interesting that the impression changes depending on how you wear it because it's a universal casual item.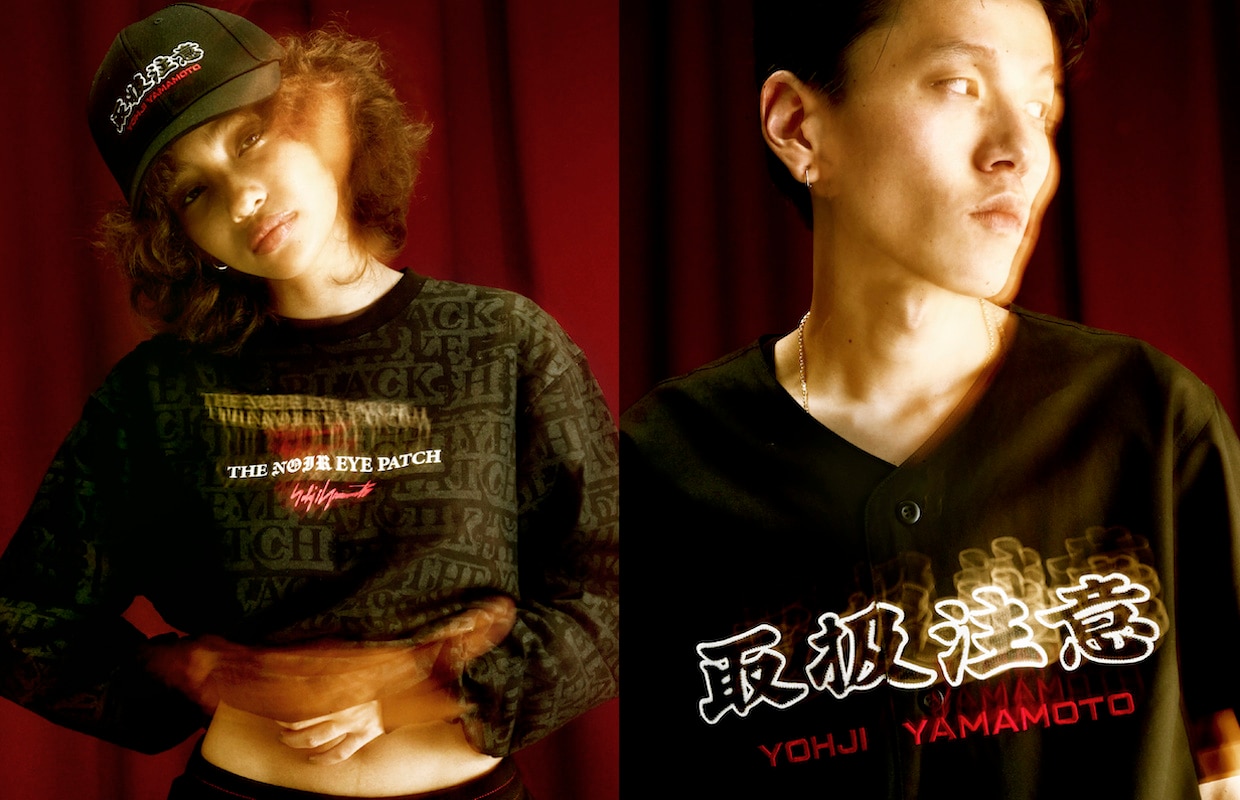 For WILDSIDE, this is the first time to create a collection with such a casual composition, right?
POGGY: Yes. There are 3 types of single T-shirts, but it's the first time I've seen such a solid package. The sweat cargo pants also have some nostalgic vibes. Like the contrast of the red stitching being reminiscent of the 2000s.
ーーBy the way, what did you think about the similarity in tension between YOHJI YAMAMOTO and BlackEyePatch, you mentioned earlier?
POGGY: The name of the WILDSIDE project was inspired by one of Lou Reed's famous songs, because Mr. Yohji had a friendship with Lou Reed. I guess you could say that it's not the main stream, but rather a side street where you're intentionally walking. I was allowed to go to BlackEyePatch's first show at Tokyo Fashion Week, and it was amazing because it was filled with various elements of Japanese youth culture. At the site of a former Noh theater, with the pine trees that Graffiti Writer drew large in the background, old motorcycles were running around on the stage (laughs).
BlackEyePatch: We had never been to a fashion show before we did our first show, so we didn't know what a show actually was. It almost felt like a cultural festival (laughs).
POGGY: It might be a bit strange to put it out as an analogy, but even though SUPREME makes things that are casual, they use first-class fashion photographers for their visuals, and their art ranges from high art to real street people. You are involved in various things, aren't you? BlackEyePatch is also very particular about photography, and I think that there are things in common, that there is a proper elegance. The balance between the wild side and the elegant look.
BlackEyePatch: Thank you.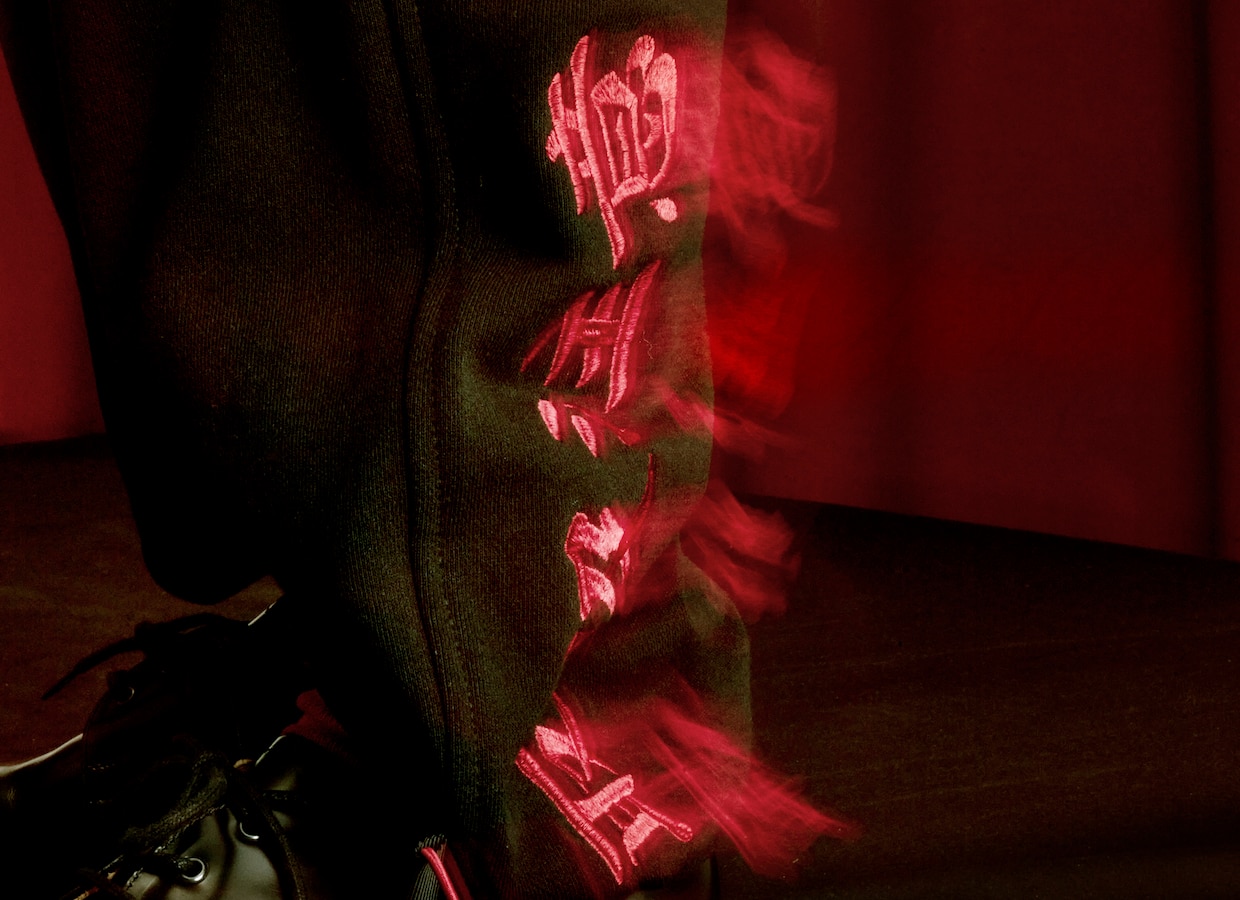 ーーYou mentioned that BlackEyePatch is a brand that started without learning about fashion, but the number of such brands will continue to increase in the future. It could be said that the culture of fashion is connecting with other cultures, but what do you think POGGY?
POGGY: I think the reason why so many different cultures and fashions mix together is because of the time axis. What I mean by that is that if you're talking about a car, you think and act on a time axis of at least 10 years. In such a situation, fashion changes every six months, so it is possible to bring the time axis to the present. Showing what is cool now. I think that giving such a perspective is what fashion can do, so I think that other business categories also want to connect with fashion. I think that is our strength.
BlackEyePatch: Yes, indeed. There are few fields where trends change day by day as much as fashion.
POGGY: I think more people go into fashion without "properly" studying it is a very good trend. However, what foreigners expect from Japanese brands is, after all, the manufacturing aspect. Many Japanese brands are overly focused on manufacturing and don't do a good presentation. With this kind of collaboration as an opportunity, I expect that if we combine the manufacturing aspect with innovative presentation, it will become one-of-a-kind.
For example, the motorcycle gang culture is now highly appreciated in fashion overseas, and the price of a motorcycles can be tremendous. I think it's really amazing that BlackEyePatch is hooking up the parts that weren't properly evaluated as fashion. Also, on a side note, I think YOHJI YAMAMOTO and BlackEyePatch have something in common in the regard they look good on people who are difficult to handle (laughs).
BlackEyePatch: It's not like I'm pushing for the deliquent as a brand, but that's something that makes fashion interesting, or rather beautiful... Come to think of it, the costumes for Takeshi Kitano's "BROTHER" are also YOHJI YAMAMOTO. It's really impressive. In that way, I think that we are influenced creatively in various ways we are not even aware of.
ーーAs BlackEyePatch, how consciously do you pick up various Japanese subcultures and incorporate them into your clothes?
BlackEyePatch: Yes, we are actively trying to incorporate these aspects. Since we were born and grew up in Tokyo, we learned about Western culture, or in terms of music, HIP HOP culture, when we were teenagers. So when thinking about making something as a creation, we don't want to create something that we actually can relate to ourselves. When we were thinking about translating the things we experienced and saw in our teens into the things we admired, we realized that there are quite a lot of different influences in Japan. But it's not about trying to present "Japan" or "Tokyo" as a brand. We are conscious of naturally putting out what we have been through in our creations.
POGGY: They put out several interesting photo books, and when I look at them, I think the BlackEyePatch brand is not just only a street brand. I'm really looking forward to seeing what kind of chemical reaction NoirEyePatch will have with WILDSIDE.
BlackEyePatch Creative Director
After working as a graphic designer/art director, he started BlackEyePatch in 2013. While serving as the brand's creative director, he also serves as the representative of the creative team <Anchor>, which develops creative direction, art direction, and production.