Vol.4
Vision of BlackEyePatch and WILDSIDE
WILDSIDE Collaboration Curator Motofumi "POGGY" Kogi
Based in Tokyo, BlackEyePatch takes inspiration from various subcultures. The essence of the brand can be understood by examining its collaboration with WILDSIDE.
ーーToday, I would like to ask you about the NoirEyePatch collection, a collaboration between WILDSIDE and BlackEyePatch. First of all, could you tell us about how this collab came into being?
POGGY: As a collaboration curator for WILDSIDE, I brought up BlackEyePatch when we were discussing what brands would be interesting to collaborate with, during a team meeting with WILDSIDE. Because YOHJI YAMAMOTO and BlackEyePatch make completely different clothes, I felt there was an intriguing tension between the two brands that I was eager to explore. So, I decided to approach the BlackEyePatch team to see if they would be interested in doing a collab.
BlackEyePatch: We were surprised, and felt very honored. Of course we were well aware of Yohji Yamamoto, but never imagined that we would have the opportunity to collaborate with such a legendary brand. We immediately began to think about what we could create that would be intriguing and get conversations started. POGGY's idea of changing the "Black" of BlackEyePatch to "Noir" was a great idea. From a graphic design perspective, it fit perfectly into the format of the logo, allowing us to create something fresh.
ーーThe lineup of the collection is very casual in a way that is true to BlackEyePatch, right?
BlackEyePatch: We are a brand that focuses on graphics, but when it comes to the shape of our clothes, it's mostly super casual menswear silhouettes. We wanted to create a collection where we could merge Yohji Yamamoto's signature design elements with ours, which is how we came up with the lineup.
POGGY: I like to put a streetwear twist on classic pieces, especially tailored jackets. Yohji Yamamoto is a brand that is synonymous with tailored jackets, so I thought it would be fitting to use that as a starting point. For example, I like to wear baseball shirts with tailored jackets. I love this kind of disjointed styling, and the baseball shirt we came up with is something I would like to personally wear. Because a baseball shirt is such a universally casual item, I think it's fun to play around with challenging that by styling it in an unexpected way.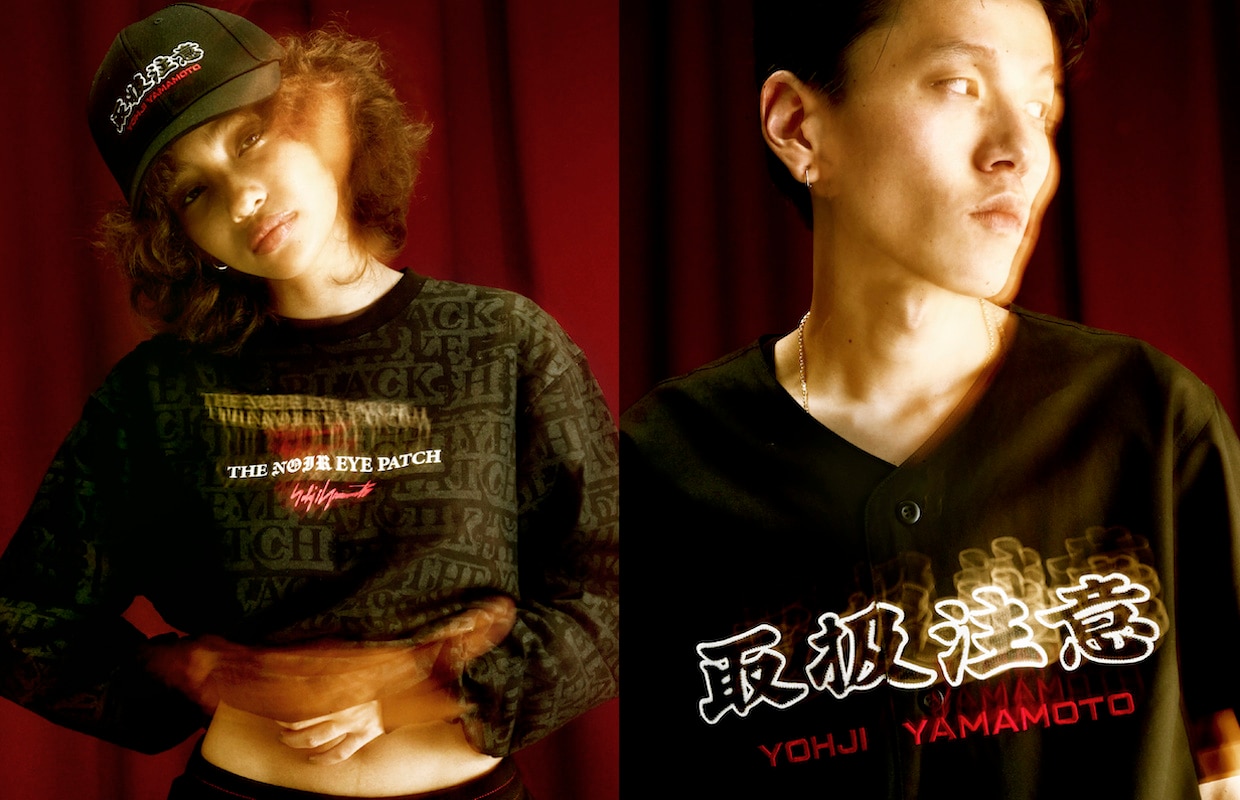 ーーIt's the first time for WILDSIDE to create a collection that feels so casual, right?
POGGY: That's right. There were three individual T-shirts made as part of the collection, but this is the first time for me to see them all together. The sweatshirt and cargo pants make me feel nostalgic; the red stitching reminds me think of the early 2000s. Contrasting stitching is synonymous with that time.
ーーBy the way, you mentioned earlier that there was a "tension" between Yohji Yamamoto and BlackEyePatch. Can you explain this more?
POGGY: WILDSIDE is named after the iconic song by Lou Reed, who Yohji is friends with. The song is about taking a backstreet rather than the most obvious path. I was able to attend BlackEyePatch's first show at Tokyo Fashion Week, and it was a great show bursting at the seams with elements of Japanese youth culture. It was held at a theatre that was once used for performing Japanese Noh. It was great, with the pine trees painted by Graffiti Writer in the background, and antique motorcycles driving around on stage (laughs).
BlackEyePatch: We had never actually been to a fashion show before we did our first show, so we didn't really know what a fashion show was supposed to be like. It felt almost like a Japanese "bunkasai"/school festival (laughs).
POGGY: It might seem like a strange comparison to make, but if you think about SUPREME, they make things that are undeniably casual. However, they use the best fashion photographers for their visuals, and the stuff they put out encompasses anything ranging from high art to real people on the street. BlackEyePatch is also meticulous about photography, and I can see parallels between the two brands. I think BlackEyePatch has a real elegance that teeters between wild and refined.
BlackEyePatch: Thank you.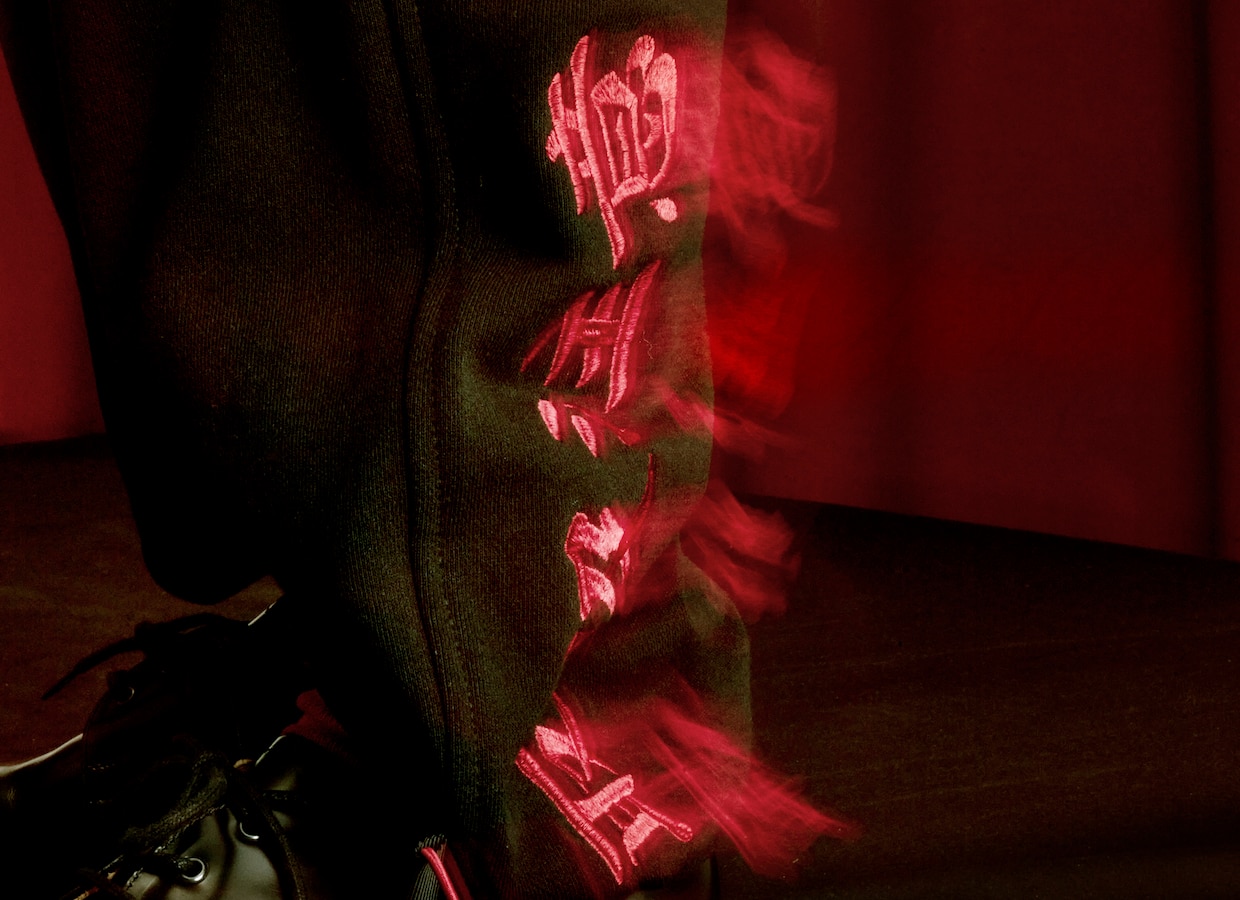 ーーYou mentioned that you started BlackEyePatch without learning anything about fashion. I think the number of brands founded by people who don't necessarily have a concrete fashion education will continue to increase in future. It could be said that the the purpose of fashion culture is to connect people from different cultures and backgrounds. What do you think, POGGY?
POGGY: I think the reason why fashion blends with so many different cultures and sub-cultures comes down to the axis of time. If you think about cars, most people think in terms of 10 years or so. As for art, you can think in terms of an artist's entire lifetime or career, which can end up being very long. However, when it comes to fashion, you've got to think in terms of 6-months blocks. In a way, this is a strength of the fashion industry; this is why other categories of business want to be connected to fashion in some way or another.
BlackEyePatch: Yes, indeed. There are few fields where trends change day by day as quickly as fashion.
POGGY: I think it's good that more and more people are going into fashion without "properly" studying it. However, what international customers expect from Japanese brands is, above all else, the manufacturing/quality aspect. As a result, I feel that many Japanese brands are overly focused on manufacturing and don't do a good job with presentation/design. We were careful to use this collaboration as an opportunity to emphasize both quality and design.
For example, motorcycle culture is now highly appreciated in fashion circles overseas, and the price of certain motorcycles can be tremendous. I think it's really amazing that BlackEyePatch is linking up the parts that weren't properly appreciated in the fashion industry until now. Also, on a side note, I think Yohji Yamamoto and BlackEyePatch have something striking in common: they both look good on people who are hard to handle (laughs)
BlackEyePatch: It's not like I'm trying to promote delinquents as a brand... but at the same time, a little bit of delinquency can be intriguing or even beautiful. Come to think of it, the costumes for Takeshi Kitano's "Brother" were designed by Yohji Yamamoto, right? And they're incredibly striking. I think we are all influenced in ways that not even we are aware of.
ーーAt BlackEyePatch, how consciously do you pick up different Japanese subcultures and incorporate them into your designs?
BlackEyePatch: I try to actively incorporate elements of subcultures. Since I was born and grew up in Tokyo, I learned about Western culture, or in terms of music, hiphop culture, when I was a teenager. So when I think about creating something new, I don't want to create something that I can necessarily relate to myself. When I reflected on all of the things I saw and admired in my teens, I realzied that there are quite a lot of different influences in Japan. But my brand is not about trying to present "Japan" or "Tokyo". We make a conscious effort only to translate what we have been through and experienced into our creations.
POGGY: BlackEyePatch has put out several interesting photo books, and when I look through them I can see that it is so much more than just another streetwear brand. I'm really looking forward to seeing what will come of NoirEyePatch x WILDSIDE.
About the BlackEyePatch Creative Director
Started BlackEyePatch in 2013 after working as a graphic designer/art director. In addition to BlackEyePatch, he is also the head of Anchor, a team of creatives that develops creative direction, art direction, and production.